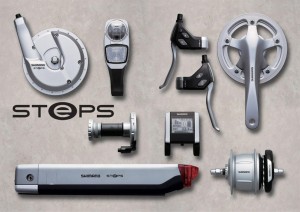 The Shimano Total Electric Power System, aka STEPS, is due to be launched at Eurobike in September. Bike Radar has a first look at the group, which includes a 250W electric motor and a 24V/4.0Ah lithium-ion battery that can be charged by regenerative braking. The 8-speed internally geared hub is operated by electronic shift buttons, and buttons on the brake levers operate the front a rear lights. I particularly like the way the rear light is integrated into the rear rack mounted battery pack…nice design detail.
There are certainly more powerful electric motors for bikes out there, but that doesn't seem to be a concern for Shimano. According to a Bike World Europe article, "what sets STEPS apart from many other electric bike systems is a basic principle in its development. According to Shimano, that principle is that first and foremost, an e-Bike has to be a bicycle."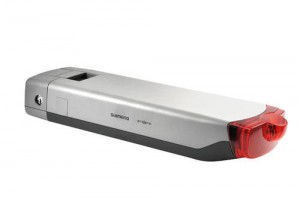 I have been saying for a while that e-bikes are going to explode as a product category (in the U.S.) at some point, and this component group by Shimano may help to speed that growth along. I'm looking forward to seeing new bikes next year specified with this group.