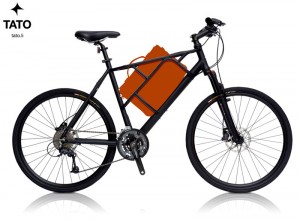 Jean-Louis Francescotti is a designer who commutes to work almost daily by bike. He was looking for a better way to transport his laptop and files, so he designed a new frame with an integrated storage compartment in the main triangle to do just that. Here is what Jean-Louis had to say about his design:
"Tato bicycles are based on the CSSB system (Central Storage System for Bicycles): a new bicycle concept. The volume for transport is centrally located, easy to access, and protects well-transported objects. The position of the objects lowers the center of gravity, improving the stability of the vehicle.
When riding a bicycle, how should you transport your belongings? A backpack makes you sweat and hurts your back. Rear and front carriers make your bike difficult to ride and park. But the CSSB system, which is integrated into the structure of the bike frame, does not have these inconveniences. The rider is freed from any weight on his or her body. No need to use accessories to secure items, they are simply inserted from the top and do not require any attachment. They are closer to the center of the bicycle and to the ground, making the ride safer."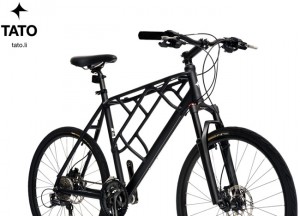 One downside of the design is that the spot for a waterbottle mount on the downtube is lost to the cargo area (update: as pointed out in the comments, the bike features water bottle braze-ons on the underside of the downtube) . Knee clearance would be my other main concern, but it looks like the opening at the top is fairly narrow so that may not be an issue. I do think the CSSB system is an interesting idea that might work pretty well for short commutes. It would also be neat to have an optional canvas liner that snaps or otherwise fits into the open frame cage to hold miscellaneous loose items…a few groceries for example. You can check out the bike's specs and read more about it on the Tato website.