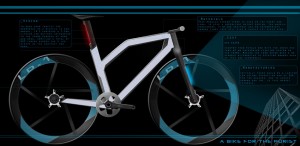 Graham Hetherington is an automotive design student at Coventry University. His LR-1 bicycle design recently won a regional design contest sponsored by Land Rover. In the competition, students from selected schools across the UK were given the opportunity to create a bike based on the Land Rover design language.
As Graham's presentation board points out, his bike is "aimed specifically at a professional individual, with expendable income and a passion for cycling." The bike is envisioned as a high-end urban commuter for that target customer. The belt drive drivetrain consists of a single 38-tooth chainring with a 14 speed internally geared hub to give the clean appearance of a single speed with the functionality of a geared bike. A lithium ion battery encased in the frame would power the integrated LED lights in the seat post and fork.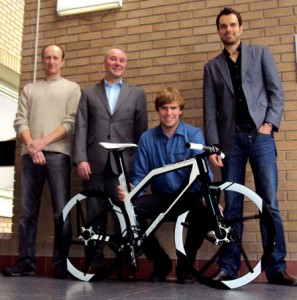 Graham's design is more than just a rendered concept. He hand made a full size prototype of the design in just 3 weeks. Here you can see him pictured holding his prototype, along with Jeremy Waterman (exterior design manager for Land Rover) and two others wh

o are responsible for the design development of Land Rover bicycles. Graham's winning design will be presented at Eurobike this year and may be put into production in the future, so keep an eye out for it.
Read more about the concept by clicking and enlarging Graham's full presentation board below.