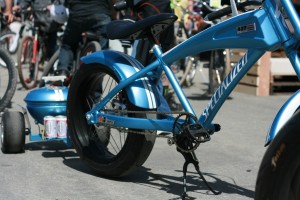 The Sea Otter Classic wrapped up yesterday in Monterey, California. Richard from Cyclelicious was there, and he posted quite a few pictures from the event, including this shot of a custom chopper concept bike by Specialized Design Director Robert Egger. For more shots of bikes at Sea Otter, check out the MTBR.com coverage and Bike Rumor's Sea Otter posts.
I was busy last week and didn't have much time to post, so I want to quickly pass along a few of the links that I have bookmarked in the last week or so.
London Cyclist posted a new Top 50 cycling blogs list for 2010 and I was glad to see Bicycle Design on the list again this year. Be sure to check out all the other great blogs that Andreas mentions as well.
Red Kite Prayer posted a few shots from the San Diego Custom Bicycle Show. I especially like the Freddy Mertz bike…pretty funny!
Bike Hugger is organizing "The (un)Wired Future of Bikes" at the WebVisions conference in Portland next month. The "future bikes" presentation in particular sounds like something that may interest many of you.
Salone del Mobile took place in Milan last week. It is primarily a furniture show, but I have posted bikes from that show in the past. This year, Irene from ABCD posted a few bike related pics from the show on Twitter.
Regarding LED wheels, Core 77 asked; Is it possible to harness this awful design trend for good? I'm not sure whether or not they saw the Monkey Electric lights before posing that question.
I noticed some bike content on a couple fashion and interior design focused blogs this week. Oh Joy posted this leather Billy Kirk frame bag and Design*Sponge posted about Red Tail Fenders and the Serie Stoccolma bikes from Note Design Studio and Abici.
Love Your Bike Portsmouth will take place in the UK next month. There are quite a few interesting contributors on the list so far. Some of who will be designing bikes and customizing parts to be displayed at the event…should be pretty interesting.
I missed this at first, but Ron at Cozy Beehive posted an interesting follow up about the Copenhagen Wheel last month. He asked Christine Outram of MIT's Senseable Lab to explain the design, specifically asking, "how many stops it would take a cyclist to recover at least 10% of the total battery capacity in the wheel."
Some of you already follow Bicycle Design on Twitter. That account will continue to be focused on content related to this blog, but I recently started a new personal Twitter account at @jctdesign. The new account will have more of a general product design slant, with a heavy emphasis on furniture, home décor products, lighting and some of the other stuff that I work on. There will be some overlap between the two accounts, but for the most part the bicycle related content will remain at @bicycledesign. If you are interested in design outside of the bike industry though, feel free to follow me in both places.