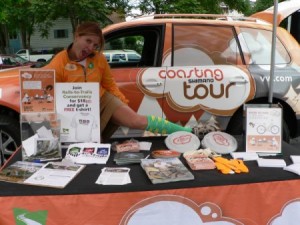 It should come as no surprise that I liked the idea behind Shimano's Coasting group when it was announced about 4 years ago. I first mentioned in a May 2006 post that, despite the general negative reaction from many cycling enthusiasts to the look of the group, it was great to see Shimano making "an effort reach out to new customers". Since that post, I have mentioned Coasting and the bikes (like the Trek Lime) based on the group many other times…and in all cases I was pretty optimistic about the concept. In one of those posts, I linked to this article from Design Council Magazine, which I think does a good job of explaining the basic idea behind the project.
Regardless of what you think about Coasting, it appears that the program is no longer active. Yannig Roth points out in a post on his blog, that the separate website for the program, Coasting.com, now redirects to the Shimano corporate site. Yannig investigated a bit further and was told by a spokesperson for Shimano France that the Coasting program had been "abandoned – or at least temporarily stopped."
There probably were some issues that could have been addressed with the design, development, and marketing of  Coasting and the bikes based on it (easy to say in retrospect), but I still believe that the idea behind it was, and still is, valid. Toward the end of his post, Yannig said, "I hope that this promising approach of cycling's marketing won't be definitively abandoned, because it had (has!) market potential." I agree with that statement, and I am still pretty optimistic. Shimano, and other companies in the bike business, know that they are missing out on a huge potential market with their current product lines. It makes good business sense for them to learn from past failures as they continue to try and expand the marketing base for their products. Coasting may or may not be officially dead at this point, but the pursuit of the untapped market that is the "blue ocean" of non-cyclists will continue.
On that note, I want to point you to Bike Radar's synopsis of Mark Sanders' "Imagine – Bicycle as consumer product" article. A few of the commenters take issue with the premise of the article…not all that surprising considering the fact that Bike Radar's readership is made up almost exclusively of core "red ocean" recreational cycling enthusiasts. I know that the readers of this blog have pretty diverse cycling interests, from racing to utilitarian cycling and everything in between, so I am curious what you all think about Mark's article and also about the demise of Coasting. What should be the next step (if any at all) for companies like Shimano, Giant, or Trek who want to cash in on a transport-oriented bike for the masses? It is definitely a subject that interests me, so I encourage you all to share your thoughts.
Image credit: Momentum Magazine by way of Yannig Roth