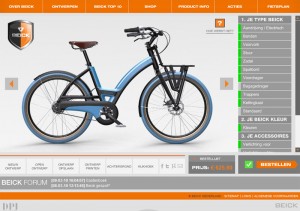 I first posted a design by Angelo Jansen (his GSUS concept bike) about two years ago. Since that time, Angelo has been working on another interesting design project. Beick.nl is a Dutch website where customers can customize and purchase the Beick city bike online. As you choose from the different options available, you see a very nicely rendered representation of the bike you are making on the site. The website is in Dutch, so I couldn't understand everything, but I had fun clicking around to look at the various options. On the website, you can switch views and look at detail areas as you change the bike's colors, components, features, etc. The different set-up options that you can choose for the bike are based on sub-assemblies, which reduce the stock of complete bikes while providing the customer more options. Plastic covers are used for the various color and graphic options, again reducing the need to stock a great number of different SKUs.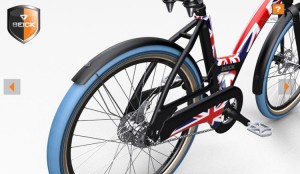 Angelo partnered on the design of this bike with Jorrit Schoonhoven, the chief designer for Batavus, and he made a point to say that Jorrit "deserves special attention for his inspiration and support." The background information that Angelo provided about the design is pretty interesting, so I want to share some of that with you (in his own words slightly edited by me):
"To understand the starting point of the concept you need to know that I am a son of a small-scale bicycle dealer in a small town. My hometown is close to the beach, in summertime full of tourists and empty in the winter. Although my father wished that I would take over the family bike shop, I decided to stay in bike biz, though not in the bike shop. I went to business school (small business), an apprenticed in a medium sized bike factory in the Netherlands and in Taiwan where the bike industry really caught my heart. I went back to Europe to work three years for Shimano before I started my own company; initially just trading, but step-by-step creating tailor made products and concepts. My target is to develop bike concepts for regular cyclists, and try to encourage cycling for non-cyclists (Blue ocean?).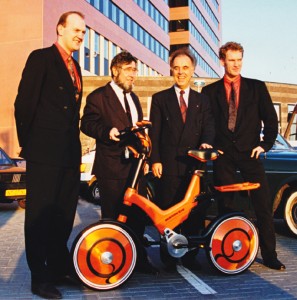 A couple of years ago I met Jorrit Schoonhoven, who at the time owned an industrial design company, with brands like Coca Cola, Nike, Heineken, etc. as his customers. Jorrit had designed a Shimano Design Contest award-winning concept bike for Batavus called "Maximum Double Orange" (pictured here)
When I started to work with Jorrit we had the following starting points:
1.  Create regular bikes (no exotic bicycle design and useless features)
2.  Use industrial design to improve biz processes (logistics, QC & QA)
The Maximum Double Orange was already a bike based on sub-assemblies, though looked pretty exotic for European standard. It was more of a "designer bike" to win contests and get press attention, but not really a commercial product. This is where a lot of people in bike industry lost confidence in the concept and this is where I started to believe in the concept. I did not look at it as a bike, but looked at the bike as a business model and have to admit the concept is brilliant. Jorrit agreed that the the appearance was a bit to far away for the average person, so we started to develop what ended up to be Beick.
Our strategy was to add more consumer value in the bike. In Europe luggage carriers are very popular, but the choice of carriers on certain bikes is close to none. If you want to order a bike with front carrier, you need to order a transport bike. A sports bike (Nexus 7, trekking bar) with front carrier is very hard to find.
This is why we ship the bikes in sub-assemblies. The bike is divided in 4 main sections:
Drivetrain- rear frame, rear wheel
Front- front frame & fork, front wheel
Steering assembly
Seat
In order to create your own bike you can accessorize your bike with locks, carriers, kickstands, child seats, etc. Finally you can personalize your bike. The bike itself is always in one color, you color your bike with plastic covers (colors & graphics)."