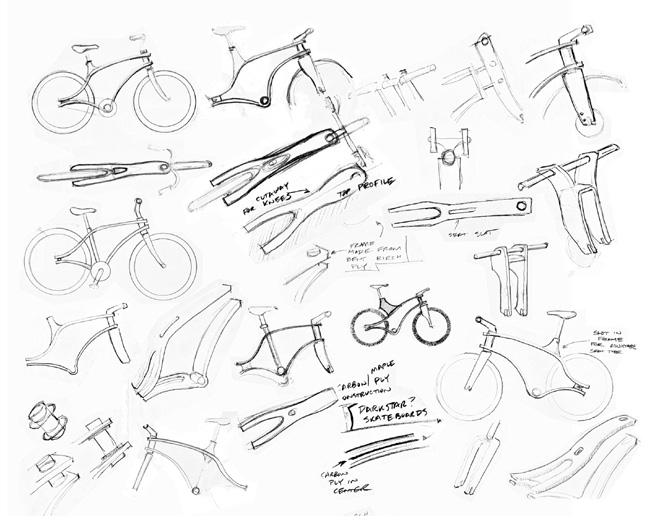 A few weeks ago I posted a bike, sent to me by a reader, which featured a frame partially constructed from laminated wood. Peter from Velo Vision recently sent me an email and identified the mystery bike as the work of James Coleman, a design student at Loughborough University in the UK. When I first saw the bent ply bike concept, it reminded me of a few thumbnail sketches that I did a couple years ago. The message from Peter reminded me again of the old sketches, so I decided that I would dig them up to share (it has been a while since I posted any of my own sketches on this blog unless you count the three bikes in the header).
I did these thumbnails one day while I was looking at Alvar Aalto chair designs from the 1920's in a furniture book (and in that book is where I found the sketches). You have probably noticed that all of the classic bent ply chair designs take advantage of the flex that is inherent in the material. Laminated plywood is very strong, but it does flex in the direction perpendicular to the individual plys. As I browsed though the pages of chairs from Aalto, Charles and Ray Eames, and others, I wondered why so many bikes that I see designed from plywood have the material oriented in a way that it does not provide any suspension for the rider. The Jano bike and the Sandwich bike, both of which I have posted before are nice designs, but they are examples of bikes in which the orientation of the plywood would not provide any vertical compliance.
Anyway, my idea was to create a frame from two curved pieces of laminated hardwood so that the frame would have a natural suspension effect. It might even be possible to add a carbon ply in the middle as at least one skateboard manufacturer has done in recent years. As you can see, the sketches are rough and I haven't given the idea much thought since the day I did them, but I think they could be possibly developed into something. There certainly would be several challenges to overcome in the design and development of a bike like this. The plywood "top tube" would need to be wide enough to provide the necessary strength, but at the same time it would need to be narrow enough that knee clearance would not be an issue. The same issue would apply to the Q factor at the bottom bracket and don't even get me started on the chain and seat stays. There would be many other challenges as well, but it would be a fun idea to take further if I had the time. Of course, I probably wouldn't be posting the idea here if I thought it was really worth pursuing (does the world really need another wooden urban bike?). Still, I think there would be a niche market for a bike like this. I could see this bike, with a natural birch ply frame and a Shimano Alfine grouppo, for sale in a furniture catalog like DWR. Maybe I will clean up the sketches and do a quick rendering to post one day; probably not though, so don't hold your breath. Then again, maybe I should do the rendering just for the person who recently left the following anonymous comment; "great. another wood bike. i have news for you- wood is NOT a good material for bikes. enough already!" Yep, this post is just for you.
Update: See a Photoshop rendering of the concept below. Prototype to come later…maybe?