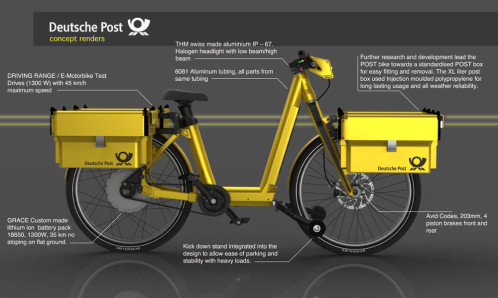 Luke Guttery, of Axon56 design lab, recently sent me these images from a project that he has been working on for Deutsche Post. The electric bike, designed specifically for use by the postal service in Germany, is a collaborative design effort with Grace GmbH and Nicolai GmbH (a company that Luke believes is the highest precision bicycle manufacturer in the world).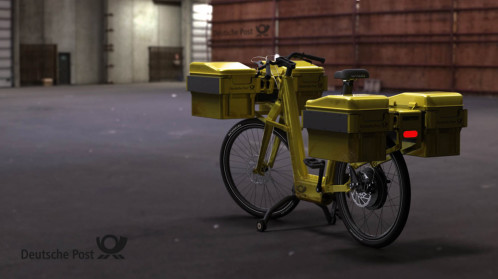 Luke can't release too many detailed specs on the bikes at the moment, but he points out that there are quite a few "working prototypes cruising the streets Berlin streets as we speak."  The bikes are currently under testing and a second design revision is underway, so it won't be much longer before these bikes are commonplace in Germany
Luke explains that the "design started with simple sketches on paper, looking at symmetrical shapes and how to maximize storage capacity on the bike." As with most design projects, quite a few sketch and 3d rendering revisions were required to get to the engineering phase of the development process. The sketches, renderings, and photos shown here give you a glimpse into that design process, and we can look forward to seeing the final design once it is completed and put into use by German postal carriers.