If asked to name an invention that has dramatically improved the bicycle in the last couple hundred years, the pneumatic tire would probably be at the top of many people's lists. John Dunlop's patent for an air filled bicycle tire in 1888 set the course for the tires that are used on almost all vehicles today. Compared to a solid rubber tire (or a solid wood wheel prior to that), Dunlop's pneumatic tire added a level of comfort and handling that allowed for other improvements to the design of the bicycle. Almost immediately after the pneumatic tire became a standard though, inventors were trying to come up with a non-pneumatic tire that mimicked the comfort of Dunlop's invention… but without the possibility of a flat. One hundred and twenty years later, people are still trying, so the good old fashioned pneumatic tire is obviously not easy to improve on.
Living just a few miles from Michelin's North American Headquarters, I often hear news about the Tweel project, an experimental non-pneumatic tire design for the automotive industry. Much like the Tweel, a new prototype tire/wheel from Colorado designer Brian Russell uses flexible spokes to create an airless tire with the cushioning properties of a pneumatic. According to Chop MTB, Russell's Energy Return Wheel uses "rubber stretched over a series of rods to provide its cushioning. These rods can be adjusted, changing the tension of the rubber to suit different types of terrain. The 29er rim is made from carbon fibre to keep weight down, and Russell is thinking about adding a thin sidewall to keep mud and trail debris out."
Airless bike tire designs are pretty common, but the ability to tune the "pressure" by adjusting the rods makes this one pretty interesting. Check out the video at Chop MTB for more about this prototype design.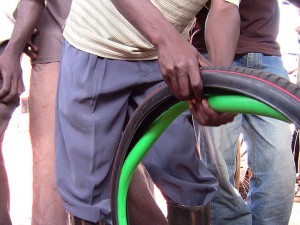 Another airless tire project going on right now is the Milele bicycle tube from Baisikeli Ugunduzi. If that name sounds familiar, it may be because they were one of the student teams in the African Bicycle Design Contest, which I participated in as a jury member a couple of years ago.  These days though, Baisikeli Ugunduzi is a social business startup in Kenya that is working for those who depend on bicycles to earn a living. The bicycle taxi drivers in Kenya (boda boda) are the ones who stand to benefit the most from the inexpensive Milele, which is a flexible, solid, foam tube. According to Baisikeli Ugunduzi, "boda boda earn about $2.50 per day and spend a quarter of their income fixing flat tires. Due to flat tires boda boda struggle to feed their families and send their children to school. "
Baisikeli Ugunduzi's Indiegogo page explains the project in much more detail. Currently the tubes are successfully being used on boda boda bikes in Kitale, Kenya, but the goal of the Indiegogo campaign is to raise 40,000 dollars to outfit 8,000 more boda boda bikes throughout the country. They have 11 days left to reach their goal, so check out the site, and see if it is a cause that you might be interested in supporting.