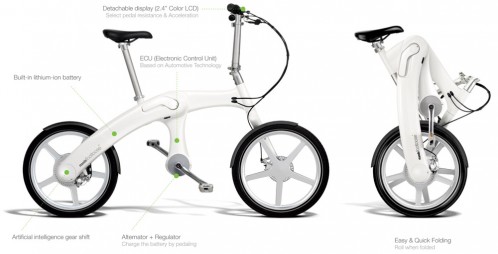 I briefly mentioned the Mando Footloose chainless e-bike recently, but it is an interesting design that is overdue for a post of its own.  Mando Footloose is a partnership project of Mando Corp. and Meister Inc., both of which are automotive suppliers in South Korea. To design and develop a chainless hybrid electric bike "featuring automotive know-how", they brought on board award winning British designer Mark Sanders (who I want to remind you is a judge in the ISUDA Bike Share Design Competition that is currently running on this blog), and Dutch e-bike expert Han Goes. The resulting design was officially introduced to the public a few weeks ago at Eurobike, and will be available for sale in Korea very soon.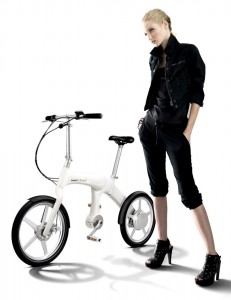 The chainless hybrid drive system is probably the noticeable attribute of the bike, and that is one of the prominent features based on the technology from Mando/Meister.   As the rider pedals, the cranks turn an alternator that generates power to drive the rear wheel. The press release explains it this way:
"The hybrid drive system brings the power directly to the drive wheel with its high performance dual winding motor, while at the same time also serving as a generator: When you pedal, mechanical energy transforms into electricity and feeds the e-bike battery – to a certain extent self generating. By adding energy the standard range of 30 kilometers can be increased even more. Using a throttle, the motor drive can be controlled and you can ride the Mando Footloose even without pedaling."
Another bit of automotive technology is the ECU (electronic control unit) which is located in the center of the frame. The integrated sensors recognize the bikes speed and slope of the terrain, and "regulate motor performance accordingly– just like the electronic assistant in a car." The automatic drivtrain technology is all hidden in the frame, but the "detachable HMI Display (Human Machine Interface) is placed on the handle bar and supplies the rider with important information such as riding mode, distance covered, speed, battery status and amount of electricity produced."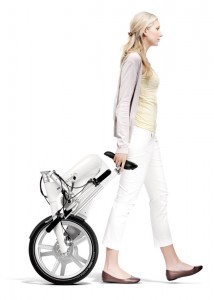 As we have come to expect from bikes designed by Mark Sanders, the Mando Footloose can be folded "simply and compactly by pushing two levers, and rolled on its wheels." Mark's "human focused" approach to design results in a bike with no sharp edges that is comfortable and easy to fold and transport. As Mark points out in the Mando Footloose catalog, the bike is "designed for regular humans; smooth and clean like the latest smart phones, with powerful technology hidden inside."
Hmmm…sounds very much like a human powered transportation solution for that blue ocean of non-cyclists. It will be very interesting to see how it is received in a traffic choked city like Seoul in the near future.
Photo credits: Mando and Mark Sanders. See a few more interesting development images here.