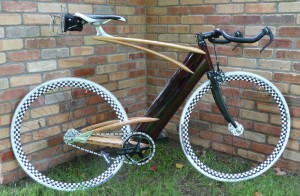 What happens when a woodworker who normally rides a softride decides to build his own fixie? This custom wooden frame by Ken Stolpmann is the result. A post at Fixed Gear Gallery (which includes many more pics) explains:
"The frame itself is entirely wood with some metal bolts and inserts for the bottom bracket and headtube. The downtube is built like an airplane wing, and the whole bike is pretty darn light. Ken made the seatpost and rear wheel mounting assemblies as well."
I have posted a few cargo bikes recently, and it is definitely a category that I like to see growing. That is why I am excited about out this trailer for (R)Evolutions per Minute: Cargo Bikes in the US. Liz Canning is producing a crowdsourced documentary about cargo bikes in the US, and she is seeking submissions from you to make it happen. See the cargo bike documentary page on her website for more…and check out the rest of her site while you are at it.
If you are an aspiring framebuilder and want to make a fairly simple spine jig, check out this post from Suzy at Little Fish. It is a nice looking setup that looks pretty easy to build.
NeilPryde Bikes has a wild looking custom painted Alize frame in their Flickr stream. The custom design is by Javier Serrano and it was painted by JotaDesigns. The frame will go on sale soon, but for now you can see the discussion about it on NeilPryde's Facebook page.
Finally, I want to mention Forever Bicycles, part of the 'Absent' exhibit in Taiwan by Chinese artist and activist Ai Weiwei. Though it looks like a rendering at first glance, the installation consists of "1,000 bicycles installed in a 10-meter high space in a moving, abstract shape to symbolize the way in which the social environment in China is changing." I was traveling in China earlier this year when Ai Weiwei was arrested and detained (for nearly 3 months), and I have been closely following the news stories about him since that time. This exhibit in Taiwan is an interesting development as Ai remains under investigation in China for 'suspicion of economic crimes.' But I digress…you can read more about Forever Bicycles at Bike Hugger and The Cool Hunter.