I'm still very busy getting caught up in the office after a couple of weeks in Asia, but I have a backlog of interesting links that I want to pass along.  Some of these probably deserve a bit more detail than I can give them today, but time is limited…so here comes another rapidfire links post.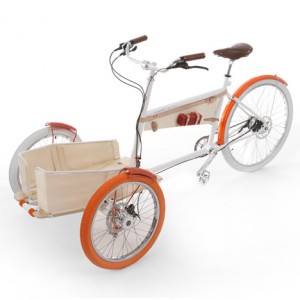 In my last post, I mentioned the three "Creative Collaborations" between design firms and framebuilders that were part of this year's Oregon Manifest. Out of the three designs, the Fuseproject/Sycip trike seems to be the one getting the most coverage on the various design websites.  The LOCAL trike is a nice design, but perhaps all the attention on design blogs has more to do with Yves Behar's involvement than the trike itself.  I liked something about all three of the designs, but after reviewing them all, the IDEO/ Rock Lobster e-bike was the one that got my vote.
A couple of people pointed me to this Evolve recumbent trike which will debut at Recumbent Cycle-Con later this month.  According to Eric Ball, an engineer at the company, their new prototype folding trikes are "the most compact ever designed and fold incredibly quickly – in as little as 6 seconds." Check out their website for more.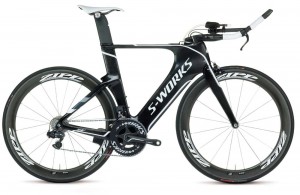 Specialized chose the Ironman World Championships in Kona to debut their new Triathlon-specific 2012 Specialized Shiv. BikeRumor has posted several spy shots of the bike, which features a hydration bladder integrated into the large downtube. As they point out in their post, the frame doesn't comply with the UCI's 3:1 rule.  As I mentioned in a previous post, it makes sense for bike companies to ignore UCI restrictions and design bikes specifically for the growing tri market.  Based on the quote in another BikeRumor post about this new version of the Shiv, it is clear that Specialized is doing just that.
Urban Lace is a company that makes "eco friendly designer jewelry" using recycled tubes collected from local bike shops. I am sure that you have seen jewelry made from recycled bike parts before, but these designs are pretty unique. I like the coral-like forms of the bracelets, earrings, and eye masks.
Another company that makes products from recycled bike tubes and other reclaimed materials is Green Guru Gear. Check out some of their bags and other products in the pdf version of their catalog.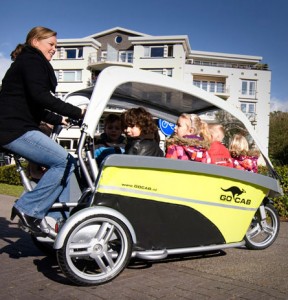 GoCab, a Dutch electric assist pedicab for transporting up to 8 children, was a Eurobike award winner this year.  Another interesting Dutch design for carrying passengers is from Vrachtfiets.nl (CargoBike).  In this case, two riders provide the power to move the passengers seated in the rear.  Also, on the subject of Dutch cycling, check out this 'Cycling is for Everyone' video from the Dutch Cycling Embassy.  Thanks to Jos of the website Fietsdiensten.nl for the tip on those links.
Jin Tsubota designed and made an interesting bike light as a student. Check out his instructions on how to make one at Instructables.
Eric let me know about the New England Builders Ball, a handbuilt bike show for New England-based builders, coming to Providence RI this Friday October 7.  If you are in the area, check out the website and Facebook page for more info.
Finally, though not a bicycle, I want to mention the RoTrike from Rota Mobility. Unlike a typical handcycle, it is short in wheelbase so it maneuvers more like a traditional wheelchair.  Check out the website for a more thorough list of features…it seems like a pretty well thought out design.