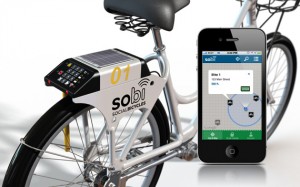 Around this time last year, I posted the Etta bike, a semi-recumbent city bike that Nick Foley designed as his senior thesis project at Pratt. Since then, Nick graduated and started working with the design team at the bike-sharing company Social Bicycles. Nick explains that Social Bicycles (SoBi) is a bike-sharing system that uses "smart" bikes rather than "smart" stations. "Each bike has an onboard GPS, cellular transmitter, and electronic lock that allow people to find and unlock bikes using their smartphones." I think it's a very interesting idea, and the idea of eliminating the fixed docking stations in a bike share system promises to reduce the overall system cost (the bikes can also be unlocked by entering a user's PIN number using the keypad on the bike itself).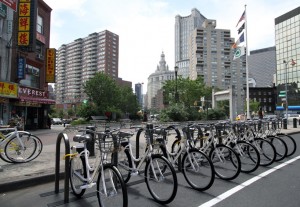 Right now, the SoBi team is seeking funding on Kickstarter, and you can find out more about the concept there. Also, check out a recent post at Designboom for more information about the project and the design of the bike that Nick has been working on. Regarding the the bike itself, Nick explains:
"The direction we chose for our bicycle was something of a classic design, guided by a modern utilitarianism. The classic 'step-through' geometry is a time-tested way of making a bicycle easy to mount and dismount for people of any level of flexibility. The shaft drive, which may seem like a novelty or innovation, is actually a well-established technology perfectly suited for bike-sharing applications, where the small amount of added weight is negligible considering to the higher durability and cleanliness compared to a chain and chainguard."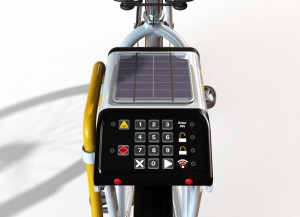 The Social Bikes team plans to have the first 60 prototype bikes ready this fall, and a full working share system ready to implement early next year. The SoBi bike, with a GPS lock and P2P sharing capability, may also be available as a consumer product. I am looking forward to hearing more about this project as it develops, and I will be sure to keep you updated.