I am off to China for work again tomorrow, so new posts will be infrequent for a few weeks. I'll try to write a few quick ones when I can find some free time though, so keep checking in.
Before I leave, I want to quickly just pass along a few links of interest.
At first, I thought this might be an April Fool's joke due to the timing of the press release, but tomorrow, Audi of America will launch "the duo – an Audi-inspired bicycle collection that embodies the best of both worlds: luxury and performance." Bikes from automakers have been discussed on this blog before, but these are a little different. The bikes from Audi will be wooden…handmade in Portland, OR by Renovo. The three new models will be available in hardwoods selected to match Audi vehicle interiors.
Basic features and prices (including shipping & handling) are outlined below:
duo City – A cafe/leisure bike, urban explorer and all-weather commuter; the most approachable bike for casual cyclists.  Features include an upright position for short distances, comfort and traffic vigilance; wide puncture-resistant 32mm tires; LED lights; fenders; rack; and Shimano Nexus 8-speed gear train. Price: $6,530
duo Road – A performance road bike, good for club and century rides. Features include narrow tires; no fenders; minimal accessories; and SRAM Red, compact 20-speed gear train. Price: $7,460
duo Sport – A fitness, long-distance all-weather commuter, perfect for cyclists seeking long-distance comfort and safety.  Features include drop bars for long distances; minimum fenders; medium width, puncture-resistant 28mm tires for less rolling resistance; and Shimano Alfine 11-speed gear train. Price: $7,350
Two of the new Audi models will feature the Gates Carbon Drive CenterTrack belt drive system. Recently, Gates, along with Fallbrook Technologies, announced a concept pedelec e-bike that uses the NuVinci N360 hub, which features an infinite number of gear ratios within it's 360 degree range.  More on that bike here.
I mentioned the Nectar and Elixir seat clamp bottle openers from Swarm a while ago.  Since that time, they have been able to hook up with new manufacturers and lower their costs, so they have a new Kickstarter project underway.
Speaking of Kickstarter, Nubia Rahim is working on a bike related film that sounds pretty cool. Check out the page for her project here.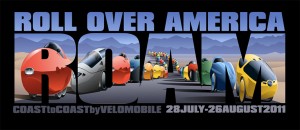 If you are not already familiar with 'Roll Over America' (ROAM for short), check out the website. It is a coast-to-coast velomobile race that will take place July and August of this year. This race should draw some pretty interesting machines, so you can bet that I will be following the site as the start in Portland draws near.
Finally, I'll mention that Cycling Satin Cesena is continuing to post about the Taipei Cycle Show. You can find an updated post about the 2011 IBDC "Excellent" and "Merit" award winners here, and a post about the Innovative Products Competition here.