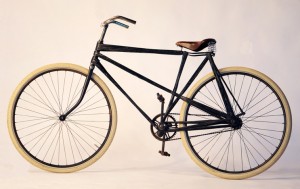 There has been a lot of discussion in the last month or so about equipment sponsor changes for pro teams in 2011. Obviously those discussions are centered on flagship carbon fiber road bikes from companies like Cervelo, Specialized, Scott, and Trek. The high-tech bikes that are raced at the pro level these days go through countless hours of design, engineering, and testing before they show up at races during the season. I think that it is safe to say that engineering and technology are at a high point in the bicycle industry right now.
Dutch designer Tjeerd Veenhoven's carbon bike is quite a bit different than the ones we are used to seeing though. He intentionally takes low-tech, sustainable approach to composite frame construction with his 'carbon bike' design, where the strands of carbon fiber are wrapped around parts in a jig. Tjeerd explains his approach on his blog: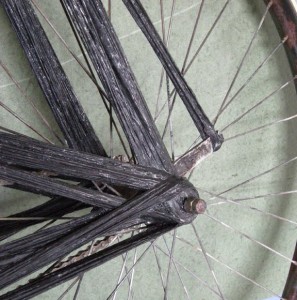 "This bike is made by mounting parts of a bike into a jig and running carbon wires drenched in epoxy resin between them. After a while the resin sets and the parts are united again. This all in an attempt to come up with new forms and shapes. Carbon in itself is not a very complicated material; often it is the weave that makes it high tech. Many of these weaves are used in high tech products, to provide a better strength to weight ratio. Of course this brings much joy to engineers and provides consumers with many more options. However in this case the carbon is not intended as a high tech material, but more as a material that is easy to apply giving more freedom to create. Nevertheless, the carbon has some very specific qualities that need to be considered while using. In this frame you can see that where pressure is applied the carbon is denser. In the parts where there is a lot of pulling the carbon is used thinly because that is the true quality of carbon, it can handle tensile strength really well. Mind the beautiful muscle-like structures that surround the rear axle, and the way the seat is integrated in the frame."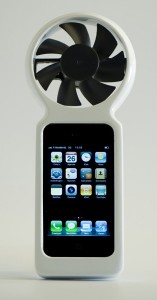 Also on his blog, check out Tjeed's design for a handlebar mounted fan to charge an iPhone. It is a pretty interesting idea that it sounds like he plans to continue developing.
Read more about Veenhoven's carbon bike and iFan at designboom.