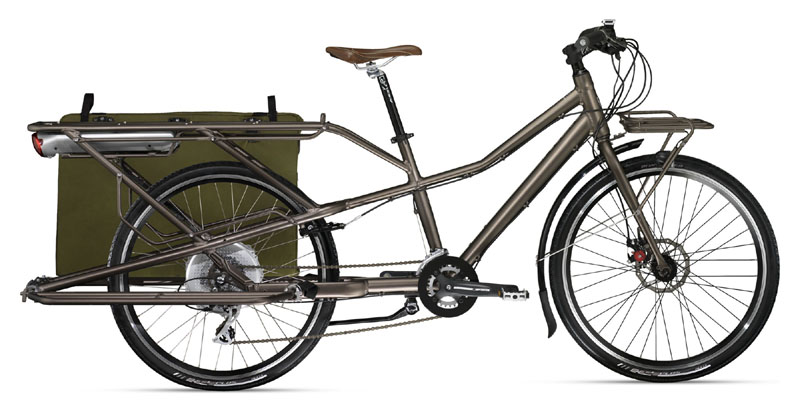 There was a good bit of interest in the Gary Fisher El Ranchero longtail bike when I posted it in 2008. Though the El Ranchero was presented at Trek World '08 as only a concept bike, Gary himself commented at the time saying, "we will make a long bike, E bike? RIGHT on!" Well… that time has finally come. Trek has now officially introduced the electric assist longtail that Gary promised. The aluminum framed Transport+ has a 350-watt rear hub motor and a battery pack that slides under the rear cargo deck. The Transport is also available in a non-electric version. Read more about it here at Cyclelicious.
The Transport+ is the bike that caught my attention (because I have been waiting to see it), but there are some other very nice looking bikes in he new Gary Fisher Collection from Trek. I really the frame shapes and graphic treatments of the new Superfly 29er mountain bikes and Cronos road and cross bikes. The retro steel Sawyer mountain bike is another one that I think looks really nice. See more of it in the slideshow at the bottom of this interview with Gary on the Trek "King of the Mountain" blog. If you haven't seen it yet, also check out Trek's video about the announcement on Youtube.
I can't really mention these new bikes without acknowledging that big announcement from Trek about the Gary Fisher Collection. If you were following any bike blogs on the web yesterday, you undoubtedly heard about Trek discontinuing the Fisher brand and introducing the Gary Fisher Collection in its place. Several blogs and cycling sites picked up on a Bike Europe story yesterday with the headline "Trek Drops Gary Fisher Brand".The article pointed out that:
"The decision to drop the Gary Fisher brand is motivated by the dealers call for Trek 29-inch and Dual Sports models. Trek did not want to put engineers, product managers and designers for both brands parallel on 29-inch and Dual Sports projects."
From a business standpoint, that second part makes sense to me. It also means better distribution for the products since there are more Trek dealers than there were Fisher ones. The big benefit of the collection within Trek though is that Gary can now really focus on developing the projects that he really cares about. I know from a brief conversation with him at Interbike last year that he is truly passionate about electric bicycles and other categories of "bikes that can change the world". For that reason, I am excited to hear that, under this new arrangement, he will be more involved in the planning and development of bikes that bear his name. As Gary said on Twitter yesterday:
"You will see more of me not less. I am so not dead. The Fisher brand is getting a BIG boost! Thanks!"
Though the Gary Fisher brand is no more, I really do believe that we will see more of Gary's influence on transportation-oriented bikes from Trek in the future. I am sure that some people will write off his optimism about this new announcement as marketing hype, but I believe that he is genuinely excited about his new role. If you ask me, the Gary Fisher Collection is off to a good start and I am looking forward to seeing how it evolves within the Trek brand in the future.