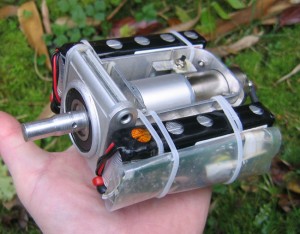 Stephen Britt is one of three finalists in the UK based Barclays 'Take One Small Step competition', where he could win £50,000 to develop his idea into a business. His "Fast Forward" entry, the only cycling related product in the contest, is a pair of electric assist pedals. Stephen explains the idea behind his e-pedals:
"These replace your standard pedals and provide you with assistance to get you up hills, or carry heavy loads. Each pedal incorporates a motor, gearbox, Li-po batteries and a control board. As you pedal the sensors detect your effort and provide assistance. To pedal without assistance, simply flip the pedals over. They unclip and slot into a charger for charging, much like with a power tool. When fully developed they will provide a range of 10 miles and peak power of 200W. They will retail for around £200."
You can see a video of Stephen explaining his business idea here on the Barclays website. It is not completely clear to me how this system will work based on the description in the video, but it is an interesting project that I would like to see developed further. If you agree, you can vote for Stephen's idea to between now and July 5th. The R&D funding will go to the idea that gets the most public votes, so I would rather see it go to a cycling project than anything else.
Thanks to Peter from VeloVision and Electric Bike Magazine for the tip.
Update 7/15: Mr.  Britt won the £50,000 prize to develop this product further. Read more at Bike Biz.