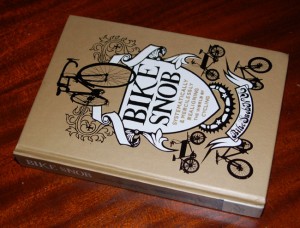 I am a fan of Bike Snob NYC (aka Eben Weiss), so I was pretty excited to receive a copy of his new book from the publisher a few days ago. It is a nice little book… hardbound and about 5" x 7" inches in size with full color photos and 2 color line drawings throughout. The attention to detail in the design of the book is apparent. It even comes with four stickers in the back with the same BSNYC crest that you see on the cover. Before I started reading it, I spent some time just thumbing through the book to check out the layout, photos, and illustrations. I finally started reading it last night, so you will have to wait a bit for my review. For now though, you can read Richard Masoner's interview with Bike Snob in the latest issue of Momentum Magazine.
Bike Snob (or Eben, or whatever I am supposed to call him these days) is getting more than his share of attention at the moment, so today I want to mention the person responsible for the illustrations in the book. Chris Koelle is an artist and illustrator who lives here in Greenville, SC. Chris explains how he got the job, and talks a bit about his experience working on the BSNYC book project, in this recent interview in the Columbia Examiner. In addition to illustrating books, he creates some really nice "vintage inspired bicycle art prints, drawings and zines", which you can see at his "Sweet Ride" Etsy shop. Finally, I will point out that Chris' wife is also an artist, and they have a blog together that is pretty interesting.
While I am posting, I will point out a few more links that I noticed this week.
I doubt this will come as a shock to anyone, but Bicycling Magazine's Boulder Report blog points out that the UCI Equipment Rules Re-Write Bike Design. I get a sense of Déjà vu every time I read an article like this.
Choosing the Right Electric Bicycle was the subject of a recent post on the GOOD Blog (which I found via a Cyclelicious post).
I generally like the design of Crank Brothers products, so I was glad to see a few of their pedals features on the Core77 design blog this week.
Design Spotter posted about an LED rear bike light that can be user programmed to display customized graphic or text patterns. Interesting idea, but from the picture it is not clear how it is supposed to mount to a bike.
Lastly, I will mention this Cannondale Graffiti Bike painted by artist Mike Giant. The bike is being auctioned on Ebay with 100% of the proceeds going to the Bahati Foundation.