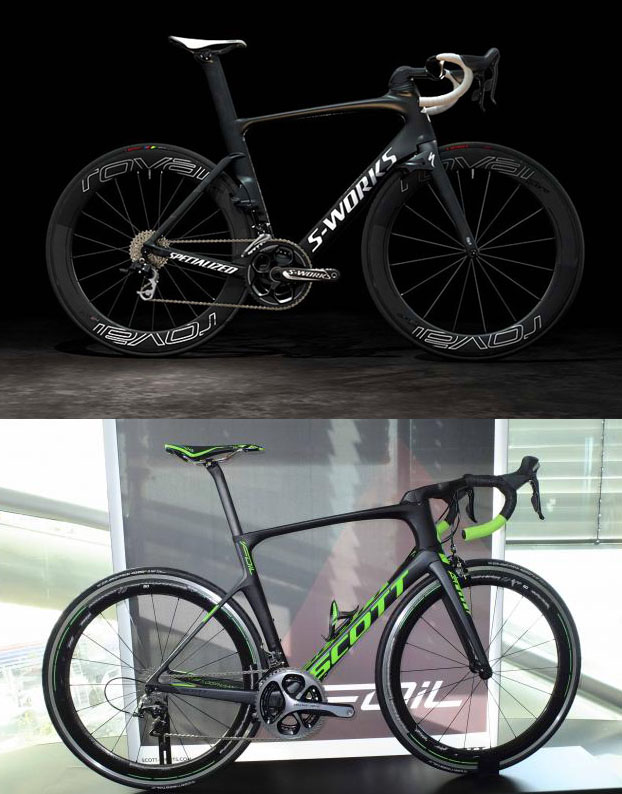 I have been busy with quite a few different projects lately, so it has been nearly three weeks since I last found time to post here at BicycleDesign.  Recently though, a couple of really nice aero road bikes have been introduced and have quickly been spreading around the web. The new Specialized Venge  ViAS  and the redesigned  2016 Scott Foil both appear to be amazing bikes that I would love to own, but I am not going to discuss either bike in detail here (at least not today). You can read more about the Venge ViAS, a bike which is the direct result of Specialized's investment in an in-house wind tunnel and features cables routed through the stem and other innovative details to minimize drag, here, here, here, and here. The new Foil hasn't made as big a splash on the web as the Venge ViAS, but it is a very impressive (not to mention lightweight) aero road bike design.  Read more about it here and here.
As mentioned before, these are both impressive bikes, but the innovation doesn't come cheap.  The Venge ViAS Di2 will cost you $12,500, and I expect the Scott Foil Premium with Di2 will also have a 5 figure price tag. You often hear these days that cycling is the new golf, and I expect that many of these bikes will be purchased by CEOs, doctors, dentists, and other well-off amateur racers/club riders who are willing to spend a LOT of money for a high end pro level bike. What about the rest of us though? If you are a middle class amateur racer who wants to buy speed (in the form of equipment, not pharmaceuticals), should you mortgage your house for the latest new super bike, or are you better off sticking with an older aero road bike and investing in aero wheels, a skinsuit, and aero helmet? A good friend of mine brought up that point in a comment on the Facebook page, and I think it is worth sharing here because honestly… as much as I love bikes, I will likely NEVER spend 12,000 dollars on one.  The good news though is that innovation always trickles down, and these aerodynamic advances will benefit all of us someday.
If you DO have the money for one of these bikes now though, I encourage you not to wait (just imagine how embarrassing it would be to show up for your local club ride on a 2 year old Venge or Foil when everybody else is riding the latest model). I know what you are thinking though. What will I do with that lightly used, but completely obsolete, pro level bike from last season? Selling it on Ebay or Craigslist is a hassle, but don't worry. I am willing to spare you the shame of riding last year's model by taking it off your hands…cheap.

Update: I threw out quite a few unlabeled links in the first paragraph. If you only want to read one article about each bike, the CyclingTips posts are the ones I would recommend. Find their Venge coverage here, and a first look at the new Foil here.
…and if you are not already following CyclingTips on a regular basis, you should start. It's one of the best bike sites on the web.
Subscribe to the email newsletter… and follow Bicycle Design on Facebook , Twitter , Pinterest , and Google + .