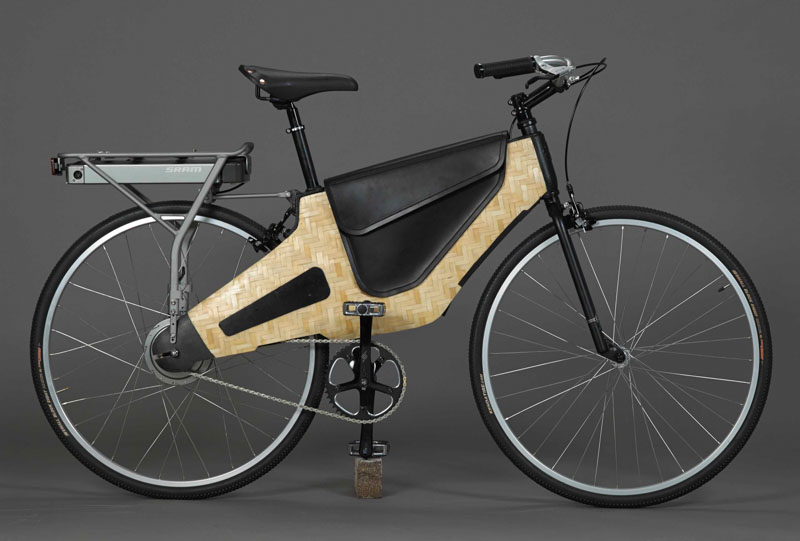 A couple years ago, I posted about  Semester Bicycles- Hextube bamboo composite frames made in the rural South.  Since that time, Greensboro, Alabama based HERObike has continued to explore new ways to build bikes with bamboo, a material that is in no short supply in the region.  By creating products made from an abundant natural resource, HERObike is able to create jobs in the Alabama black Belt, an area that greatly needs an economic boost.
Lance Rake, a professor of industrial design at the University of Kansas, spearheads the design and development for HERObike. Recently, he sent me some information about their latest project, the Bamboost electric bike (which you may have seen at NAHBS a couple months ago), so I will let him explain it in his own words:
"In recent years, bamboo has gotten a lot of attention as a possible "wonder material" for bicycle design- a sustainable resource with great physical strength and numerous environmental benefits. It has tensile strength greater than steel, yet it also possesses considerable elasticity. But for all of its great strength, bamboo is not stiff enough for many performance bicycle applications. Over the last few years I have designed a number of products including bicycles, skateboards, paddleboards, and furniture pieces that require high strength, but also a degree of stiffness in selected areas. In order to achieve this, my design work also incorporates other materials from the exotic (carbon fiber, epoxy, Kevlar, and composite core materials) to the commonplace (road signs, telephone wire, milk crates, and billboard signs) to create high performance engineered composites that can be fabricated with simple hand tools in underequipped workshops- specifically the HERObike shop in Greensboro, Alabama.
In 2012 I designed the Beacon Alley Skateboard, introducing a high-performance sandwich core construction with woven bamboo skins and a lightweight balsa core. The Bamboost e-Bike began as an investigation to find ways to use the same construction techniques developed on the Beacon Alley Skateboard project, applied to specific challenges of a bike frame. In my research, I studied plywood frame designs. While many of these designs are quite interesting, a major design limitation is imposed by the flat, planar nature of the material. A bicycle requires a wide spread at the axle of the rear wheel, a  smaller spacing as you go forward, then spreading wider for the bottom bracket, and getting even smaller at the headtube. Obviously, using planar material will require considerable compromises along the length of the frame, generally making it bulkier than it needs to be. The ability of the bamboo skinned sandwich core material to conform to the constantly changing geometric requirements of a bicycle allowed me to shape the frame to specific local needs.  Further, I was able to "tweak" the material as needed to optimize performance. The rear part of the frame was reinforced with Kevlar and carbon fiber for greater strength and stiffness. Carbon fiber was added locally to stiffen parts of the frame that showed a tendency to flex in prior tests.
Lugs were 3D printed dissolvable material, wrapped with epoxy impregnated carbon fiber and Kevlar cloth, then vacuum-bagged until cured. Finally, the printed core is dissolved and the lugs trimmed and sanded.
The Bamboost is introduced as a pedal-assist e-Bike, using the SRAM e-Matic system to assist commuters and city riders (especially on hilly streets). The design is essentially a step-through comfort geometry. The detachable leather messenger bag can hold a rider's bike charger and lock, with plenty of room left for lunch. The resulting look is a little like a moped, a little like a comfort bike, and maybe a little something completely different. In spite of the additional weight of the electric motor hub and battery, the ride is smooth and easy. Plans are to introduce a lower priced, lighter option with internal geared hub and canvas messenger bag."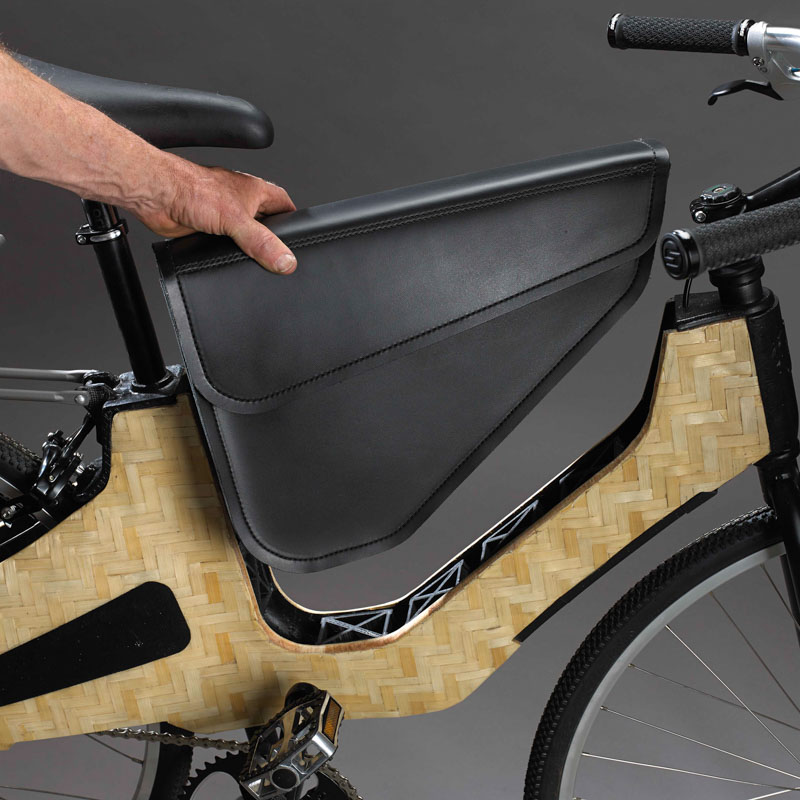 Subscribe to the email newsletter… and follow Bicycle Design on Facebook , Twitter , Pinterest , and Google + .