As I mentioned in my latest post, there has been a surge in the number of wooden bike submissions in my mailbox lately. I won't share them all, but today I want to pass along three that I think are pretty interesting.

The Tratar bike is the brainchild of Janez Tratar, a 28 year old Slovenian engineer whose family has been crafting wood for a few generations.  He first sketched his idea for the bike in 2012 while he was traveling in Vienna. "Commuting this gorgeous city daily with a rented bike made me think about improving the experience," he explains. Today, along with a team that includes Matej Ramšak, a graphic designer and student of architecture in Ljubljana, and Nejc Puš, sports and product photographer and soon-to-be architect, Tratar wants to create "a handmade commuting experience that adds pleasure and recognition to the ride." Currently, they have a Kickstarter campaign underway to fund the project, so check out that page for more information about the design.

Part of the reason that I like the Tratar bike is that it reminds me of a concept bike that I sketched years ago. The idea of working with the natural vertical compliance of bent plywood as a frame material makes sense to me, so I will be anxious to see how this design is received.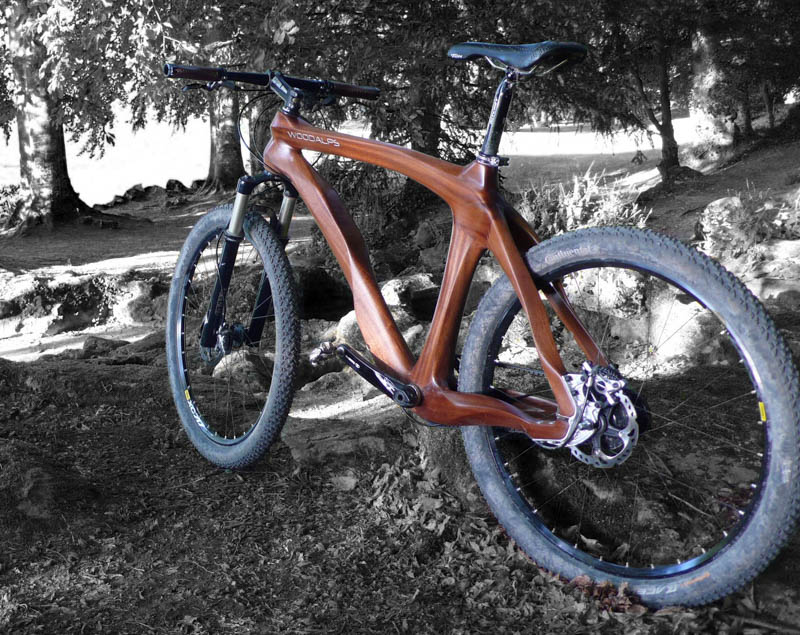 Arnaud Pornin is a designer, machinist, painter, and webdesigner living in Evian, France (on the French coast of Lake Leman). He first built a wooden bike for personal use, and selected the material because of "the freedom of design offered by the process of wood machining, as well as the mechanical performance of the wood." Based on the success of his prototype, Arnaud created the brand Woodalps Bicycles to sell his designs, including the YGG model pictured above.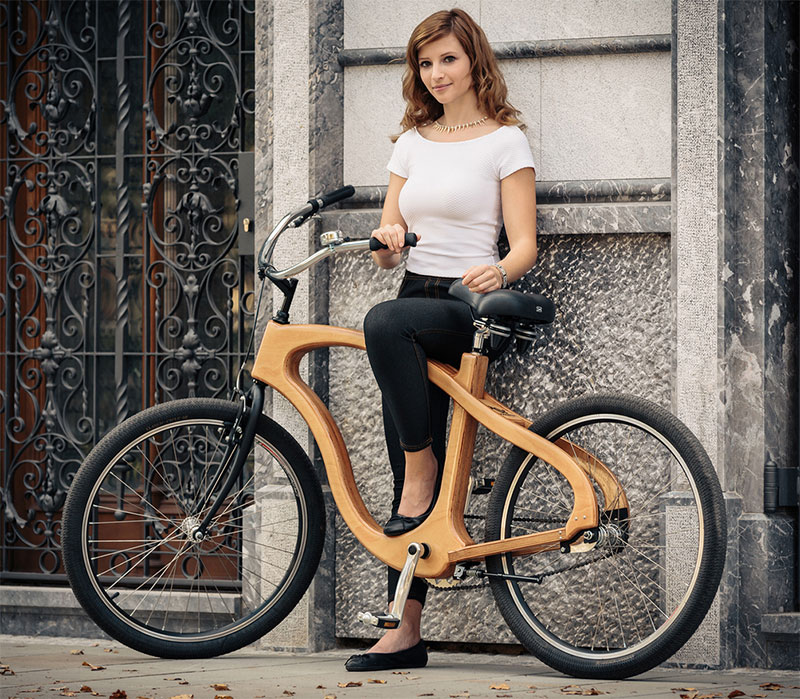 Iztok Mohorič started Woodster to create wooden cruiser bikes that offer "something more than just the transport function." Though he does consider the Woodster to be a "fashion accessory," Mohorič also believes that the shock absorbing qualities of wood offer a superior ride quality.
Unlike the Tratar design which features a bent-ply construction with the layers of veneer horizontal to the ground plane, the main part of the Woodster frame does not seem to be designed to naturally flex under the weight of the rider. The chainstays though are oriented to work with the natural flex of the material, so I am curious much that detail affects the ride.