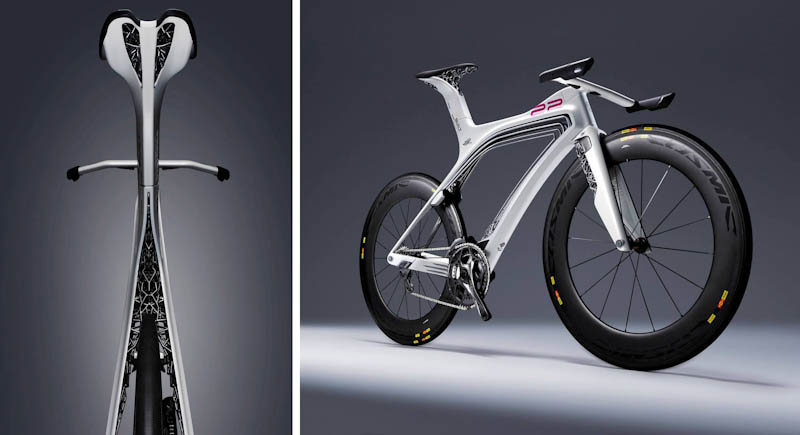 Every once and a while, a design on Pinterest catches my attention and I want to find out more about it.  Unfortunately though, learning more is often not always as easy as it should be. Many people on the web these days love to share images, but don't feel the need to credit the designer (or photographer/artist/manufacturer/etc.) or even link back to the original website where they found an image. That widespread practice of posting images without any credit or explanation is one of the reasons I started to get disillusioned with blogging earlier this year, but I'll save you the rant and move on with this post.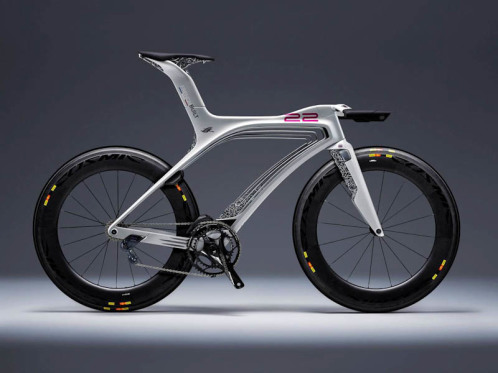 I had seen bits and pieces of renderings of this bike before, but the rear view with the filigree pattern between the seatstays caught my eye this morning. I clicked through to learn more and found that the image from Pinterest linked to a Tumblr blog that didn't credit the source. A search for Frenchbuilt bicycle turned up a page of renderings on the Small Dots Facebook page that explains:
"The 22 triathlon is a RCD Except designed Aero Road Bike developed to be faster and more efficient in all road conditions. Carbon fiber structure frame reinforced with titanium tubes and a matrix of rapid prototyping random tubes. Brakes, derailleurs incorporated into the frame. All electric with assisted hydraulic ABS controlled brakes and switch operated derailleurs."
So yeah…as you might expect it is somewhat of a "blue sky" concept, but interesting nonetheless. Small Dots also has a video that explains the process of creating the bike, which was done apparently for the salon du cycle at the 2013 Paris expo (about this time last year).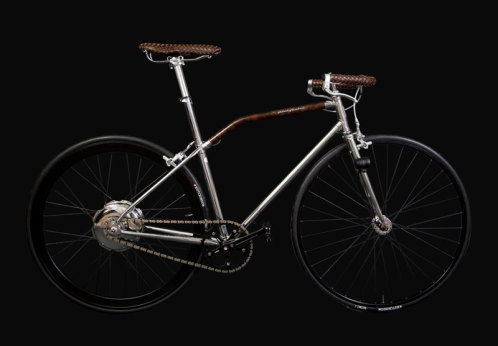 Another bike that I recently spotted via a Pinterest link to nowhere is the Pininfarina Fuoriserie, which features  a rear hub based motor (similar to the Copenahgen wheel). Like the bike mentioned above, this one is not new. The Fuoriserie was designed by Pininfarina and built by 43 Milano for the Seoul Living Design Fair that took place this past spring. According to the company, "Pininfarina took inspiration from the iconic tailor-made cars of the thirties, to create an elegant and pure shape enriched by the combination of modern and classical materials." The chromed steel frame has a walnut accent top tube and woven leather handlebars and seat that were inspired by "the interior of the Lancia Astura Bocca, an iconic model designed by Pininfarina in 1936."
Personally, I am always happy to see electric bike designs that challenge the average person's preconception of how an e-bike should look. For more images and information, check out the Fuoriserie page at 43 Milano.
Finally, I will mention that, even though I don't like the practice of pinning images without including basic information, I do have a Bicycle Design board on Pinterest. I'm sure that I have been guilty of it too in the past, but in general I try to include a bit of info, including the designer's name, with each pin. Designers put a lot of time and effort into sketches, renderings, and prototypes, so please try to credit them when you can (OK…off my soapbox).