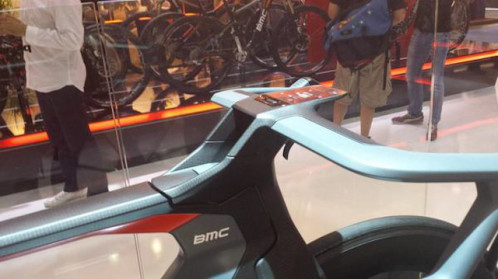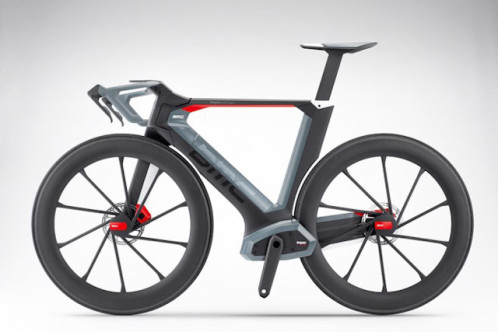 I had a different post planned for today, but that changed this morning when I saw a tweet from Torgny Fjeldskaar with the  picture shown here attached. Torgny is the design director at BMC, a position that he has held for only about 6 months. In that short time though, he already is making quite a mark with his first project (along with a team of talented designers and engineers of course). The concept bike from BMC's Advanced R&D Lab is attracting a lot of attention at Eurobike, and prompted Bicycle Retailer And Industry News to say that BMC is making "concept bikes sexy again".
If you are a long time reader of this blog, Torgny's name might sound familiar. He was previously the design director at Cannondale, and served on the jury of the "Commuter Bike for the Masses" design competition that was staged here at Bicycle Design in 2008 (Torgny and Canondale also generously provided the prize for that competition). After leaving Cannondale in 2009, Torgny went to work at BMW for a few years as Creative Director of exterior/details/lights' for compact vehicles…and prior to the position with Cannondale, he had worked in the automotive industry with Mazda. Personally, I think Torgny is a talented designer and I am glad to see him back in the bicycle industry, but I mention his past experience in the automotive industry because I believe that it is extremely relevant to the work he is now doing at BMC. When I first heard Torgny's name in 2006, I said:
"It is great to see a designer from the auto industry switching over to bikes. I believe that a talented employee with experience from a different industry is usually good for any company. Most of the people working in the bike industry are avid cyclists themselves and are very passionate about bicycles and cycling. No doubt that is a good thing, but I think sometimes an "outsider's perspective" is exactly what a company needs to really focus on innovation rather than to really on comfortable but stale designs."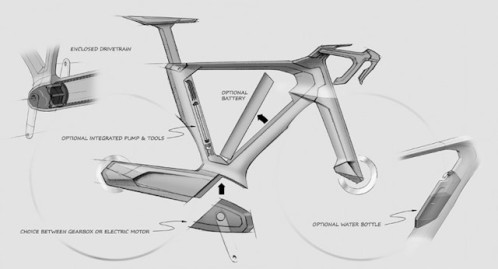 I still believe that firmly, and I think that this new concept bike from BMC illustrates the point perfectly. I also expect this to be more than a "show bike", but more of a showcase for technology and ideas that we will soon see in BMC's product line.
I won't go into detail about the bike's features and details  in this post (integrated computer, hydration, tool storage, pump, monoblade fork, modular gearbox, optional electric motor, etc). If you are interested, you can see images of the prototype and read more about it here, here, here, and here. I do want to congratulate Torgny and the rest of the development team at BMC though on a design that is getting a lot of well deserved attention. I'm glad to see it…and am looking forward to much interesting design work from the BMC Advanced R&D Lab in the future.