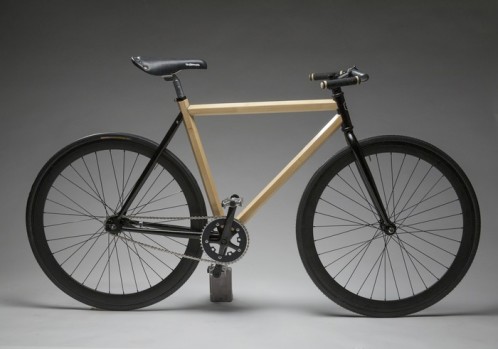 I was born in Alabama, and spent the first 18 years of my life there, so I was very happy to hear about a bike related project that is focused on creating jobs and better lives for people in one of the rural communities in the Black Belt region of the state. In the town of Greensboro (not far from the area where the Rural Studio program at Auburn University's School of Architecture is working to improve the lives of poor, rural residents through design), a collaborative design group called MakeLab has partnered with HERObike,  Future Partners,  Public-Library, and industrial designer Lance Rake to develop a bike that can be made locally from the bamboo that is abundant in the region.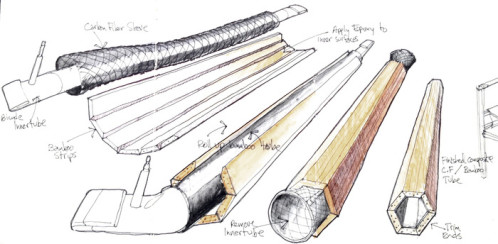 Take one glance at the bike, and you can see that it is different from the bamboo frames that seem to be everywhere these days. The main triangle is comprised of engineered composite bamboo "Hextubes," which you can see in the sketch above, and the photo below. The Semester Bicycle Kickstarter page explains:
 "Each tube is actually a structural stressed skin composite: a bamboo core is skinned on the inside with carbon fiber and covered on the outside with a durable glass/epoxy lamination. The bamboo fibers run parallel along the length of the tube, while the carbon fiber and FRP skins are laid at 45° giving torsional rigidity and protecting the bamboo. The resulting Hextube is incredibly strong and lightweight."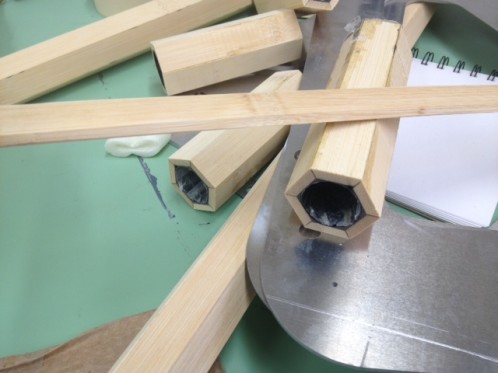 The fact that these are engineered tubes means that they are always consistent in size, shape, and performance, so they can reliably mate with the steel headtube and rear triangle that make up the rest of the frame. That makes this design more manufacturing friendly than the majority of bamboo bikes, which need to be individually custom fitted and joined due to variations in tube diameter and wall thickness. Since the goal of the Semester Bicycle projects is not just to produce bamboo bicycles, but to create jobs for the people of Greensboro, that consistent manufacturability is quite important.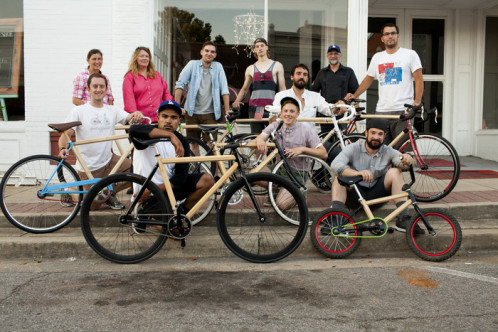 The video at the top of the Semester Bicycle Kickstarter page does a great job of explaining the project. For more information, there is also a good post today on the Core77 blog written by the designer, Lance Rake. As an Alabama native and a fan of local small scale manufacturing, this is definitely a project that I am personally backing. They have 13 days left to meet their $40,000 funding goal on Kickstarter, so I encourage you to stop by the page too, and help them create a better community in the town of Greensboro if you can.
See additional images below (courtesy of Lance Rake and the MakeLab team) including more of the development sketches, and a few prototype frame designs.