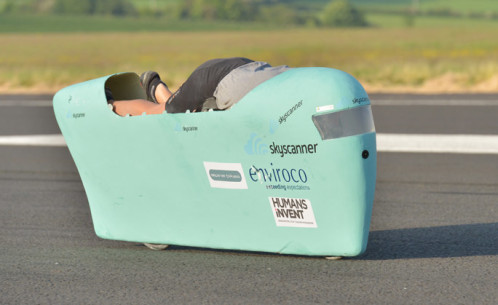 Last year, I posted about Graeme Obree's plans to attempt the human-powered land speed record in a prone position HPV of his own design.  After his test run at Machrihanish airport in Scotland last year, the record attempt was delayed due to issues with the fairing on "the Beastie." Now, Obree is back and ready to go with a completely redesigned shell made from Kevlar and fiberglass.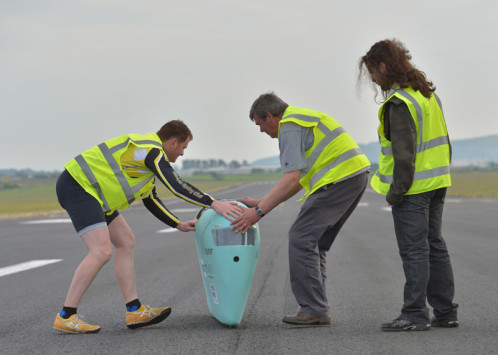 In a post at Humans Invent (by far the best place on the web to find news about Obree's attempt), he explains the new fairing shape:
"The front section is rounded, then it widens out and widens out and then comes back in, in a very smooth curve and narrows down to the back end…the most important part in terms of dividing the air and then pulling the air back in again with the least amount of energy is to have a laminar (non-turbulent) flow over the sides of it."
With his newly redesigned Beastie, Obree again plans to make his attempt at the World Human Powered Speed Challenge, which takes place September 9th through the 14th at Battle Mountain,Nevada.  The WHPSC at Battle Mountain is where Canadian Sam Whittingham set the current record of 82.819 mph in 2009, so it should be very interesting to see Obree's attempt on the same flat stretch of road.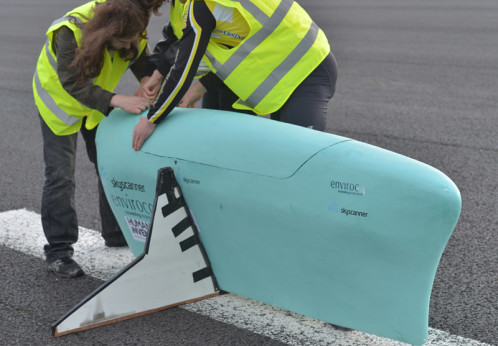 As I said before, I will be surprised if he is able to exceed 83 mph riding prone in the Beastie, but Graeme Obree has proven plenty of skeptics wrong before. I am definitely a big fan of his homespun, innovative approach, and I really do hope he can pull this off.
On the subject of Obree, check out the recent interview with him at Humans Invent. The article draws its title from Obree's statement that "almost every bike is exactly the same now." He continues, "If you go to a shop and buy a bike it will be the same bike as the rest, just with a different paint job and made by a different manufacturer." Statements like that are no surprise from Obree, but it might surprise some to hear that he agrees the UCI should impose equipment regulations for cycling as a sport. Though he believes those rules are good for the sport, he states that they are bad for cycling as a whole because the "industry is driven by what is good for racing bikes." Read the full article for more. Agree or disagree…he definitely shares an interesting perspective.
Finally, I want to share one more Obree related link. Jack Thurston from The Bike Show (one of my favorite podcasts by the way) recently did an interesting show with Edward Pickering discussing the hour record rivalry between Graeme Obree and Chris Boardman. That time in the mid 1990s was a great period for bicycle innovation. Unfortunately, all of the resulting aerodynamic equipment led to the UCI's Lugano Charter of 1996. I will refrain from ranting about the UCI's equipment regulations again, as I have begun to come around to Obree's view that strict regulation (as long as it is consistently applied) is fine for cycling as a sport. I just wish that the industry would pay a little less attention to grand tours in Europe and more attention to what is happening in the Nevada desert next month.  Those are the types of innovations that could really get more people to ride… for both recreation and transportation.
Photo credits: HumansInvent.com