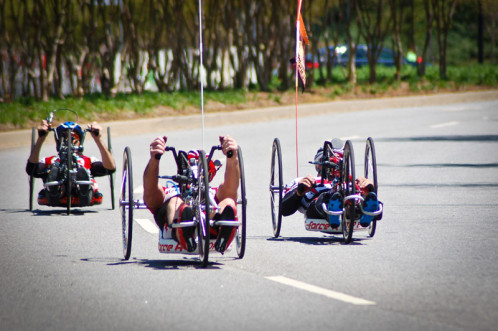 Just over a month ago (yeah, I know…I am slow to post sometimes), I had the opportunity to watch the 2013 Greenville Para-cycling Open time trial. Next year, the UCI Para-cycling World Championships  (time trial and road) will take place on the same courses here in Greenville, SC, so this was a great opportunity for the world's top athletes with physical disabilities to get a feel for the 2014 Worlds courses. The racing was exciting, and the athletes were inspiring, but since design is the focus of this blog, I'll leave the race reporting to others who can better tell the story.
In para-cycling events, athletes race in different classifications depending on their level of amputation or similar impairment. Due to the differences in rider ability between the different categories, you see a wide range of equipment including standard road and TT bikes, modified upright bikes, tandems (for blind athletes with a sighted captain), upright tricycles, and handcycles. You can see the variety of bikes in my photos from the race, but in this post I want to focus on just one type… the handcycles.
Before I go any further, I want to say that I am definitely not an expert on handcycles. The limited knowledge that I have comes from watching the races and talking to a few of the athletes. I'll share a few of my observations here, but I would love to hear comments from any of you who really do know something about the design of these machines.  In fact, if I can get hold of any designers or engineers who work in this field on a daily basis, I think it would make a great topic for a guest post here at Bicycle Design.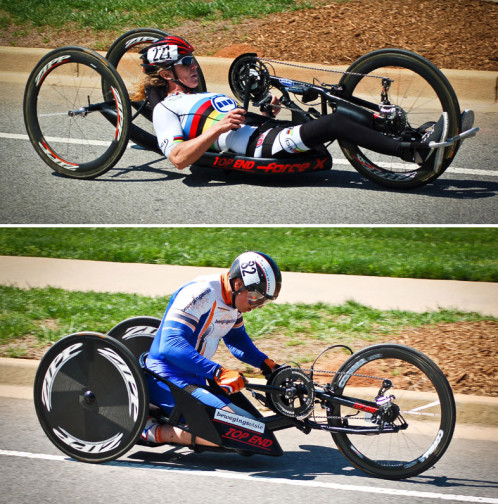 Based on my observations, the handcycles used in races fall into two categories- full supine position machines like this one, or seated/kneeling position cycles like this. The majority of the handcycles at the race were the first type, with a low, aerodynamic fully reclined rider position. The athletes on these reclined handcycles lie flat against a backrest, and seem to primarily use the muscles in their arms to turn the cranks (which have arms that are parallel to each other, rather than opposed 180 degrees as on a bicycle). On the seated/kneeling handcycles, the athletes obviously also use arm muscles, but also rely on the the back and torso. The motion is very similar to rowing, with the body moving forward and back with each revolution of the cranks. Though these designs were less aerodynamic that the supine handcycles, they seemed more efficient to me…at least for certain racers.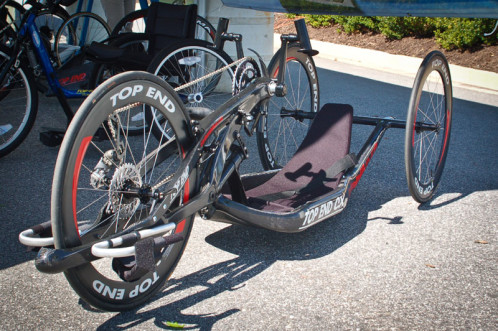 The parts used on these handcycles are just what you would see at any world class bike race- drivetrain parts from Shimano, SRAM, and Campagnolo, wheels from Zipp, HED, Enve and others. In addition to the standard components, there are plenty of custom carbon bits like this crankset and these foot holders. Custom handcycles did not seem to be the norm though. The vast majority of the handcycles that I saw at this race (and at previous Para-cycling events) were made by an American company called Top End. In addition to competitive and recreational handcycles, Top End produces racing wheelchairs and wheelchairs for sports such as basketball or tennis. They had a tent at the event with a few of their models on display ranging from a carbon fiber road racing model (which appeared to be built in collaboration with Carbonbike.ch) to an off-road model with knobby tires and a BionX electric hub. They had a lot in between too, so check out the competitive and recreational handcycle sections of their website to see the different products they offer.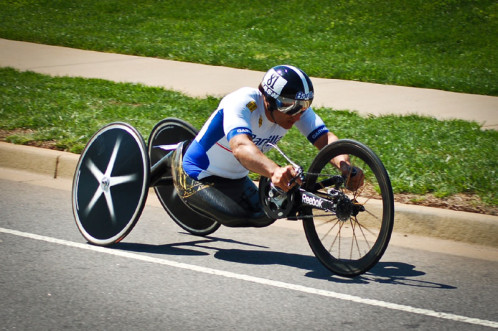 The handcycle that was getting the most attention before the race was the custom carbon, upright style machine belonging to Alex Zanardi. If you are not familiar with Zanardi, check out his website and read a bit of background here.  He was a former F1 driver who lost both of his legs in a crash during a race in 2001. A few years after the crash, Zanardi made a brief return to auto racing with prosthetic limbs and modified cars, but it has been in the sport of handcycling where he has been extremely successful in the last 5 years or so.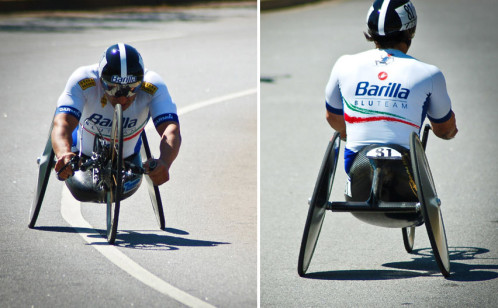 Formula 1 is a sport that is very equipment intensive, and Zanardi seems to have not lost that focus in his handcycling career. His handcycle looked nothing like any of the others, with its cambered rear wheels and mono-stay rear frame support. His positioning and rowing motion (for lack of a better term) seemed more extreme than that of any of the other athletes too.  He was using long cranks, and on the forward stroke, he leaned forward with his face very close to the front tire.  As he brought the cranks back around, his body moved to a more upright position.  His style was quite impressive to watch, and it was obvious that he was using his arms and torso to propel his handcycle as fast as possible.
As I was taking pictures of Zanardi before the race, one spectator mentioned to me that there was some controversy regarding the design of his machine.  I asked him to elaborate, but he didn't really have anything specific to say… just that some people didn't like it. There is no doubt that the design is quite different, and Zanardi obviously has a higher equipment budget than many, if not all, of his competitors. This was a UCI race though, so his handcycle had to pass the same equipment inspection as all the others. Obviously, it fell within the rules and they didn't feel like it was giving him an unfair advantage.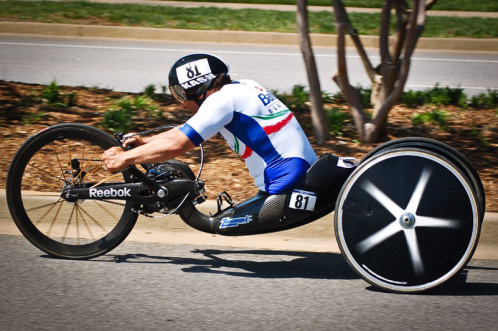 As I watched the race, I wondered if there was any truth to the rumor I had just heard about a controversy in the sport of handcycling surrounding the unique design.  Zanardi won his H4 division race, and immediately afterward he was congratulated by the other racers. If any of them felt like the design had given him an unfair advantage, they certainly didn't show it. In general, the handcyclists seemed like a tight knit group, and I didn't see anyone who looked angry or displayed anything resembling unsportsmanlike conduct (something that I have definitely witnessed at bike races before). I suspect that any "controversy" about the design was just something to mention in passing. The same kind of equipment talk that you hear at any bike race…or in any sport in which gear plays a big part. That is part of what I love about the sport of cycling though. Sure, at the core it is about athleticism and tactics, but you can't ignore the fact that equipment is a factor in every race. The para-cycling events are no different… great athletes competing on a variety of different (and interesting) human powered machines.  Again, I encourage you check out my pictures from the handcycling events, and all of the races, to see that variety…and if you ever get the chance to attend a para-cycling event in person, don't miss it. I am already looking forward to the UCI Worlds here in Greenville next year.
Update:  After I posted, I found this article about handcycle setup and design by Seth Arseneau. He obviously knows much more than I do on the subject, so I encourage you to read his article for a better understanding of the reasoning behind the different handcycle configurations.