Posts have been somewhat infrequent here at Bicycle Design lately, but it is definitely not for lack of content. I haven't been able to keep up with all of the design submissions and tips from readers the last couple of months, so if you sent something, feel free to remind me. Today, I want to feature a couple of recent reader submitted designs. Since I mentioned wooden bikes in the recent Milan Design Week post, I will keep that theme going with the two designs featured today.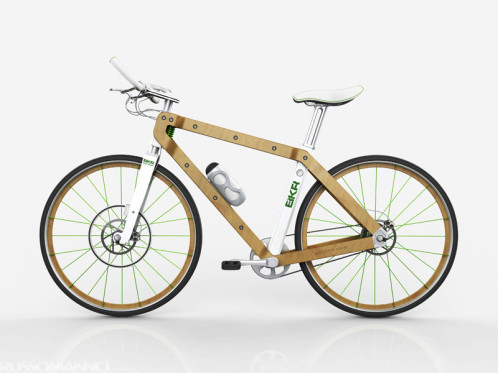 Italian designer Pietro Russomanno's latest project is the "BKR Ecoframe" concept bicycle. It has a playwood frame structure, somewhat like the Sandwich Bike, but this design uses bent-ply to form the structural skins rather than flat sheets. Here is how Pietro describes his project: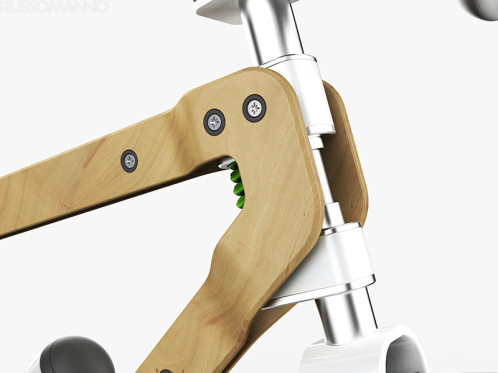 "BKR is a concept bicycle with several innovative features. It uses wood because it makes the best out of its physical and natural proprieties of sustainability, malleability and, above all, elasticity.
The main frame is a skeleton made out of plywood with an unusual mirrored structure. The two parts are merged like a sandwich through the use of screws "drowned" in inert rubber gaskets. This joint system, combined with use of wood as main material, reduces vibrations and absorbs shocks.
The "Easy Saddle" is an innovative adjustment system that permits to change the height of the seat very quickly. By just pushing a button, it allows different users to ride comfortably.
A specifically designed dynamo on the front wheel provides energy as well as speed/distance trip information directly to a smartphone dock on the handlebars.
Moreover, introducing a more sophisticated 'color and trim' scheme, inspired by the car industry and unusual for the world of biking, BKR comes in multiple combinations of wood grains and tints."
Additional images and information about the project can be found on Pietro's website.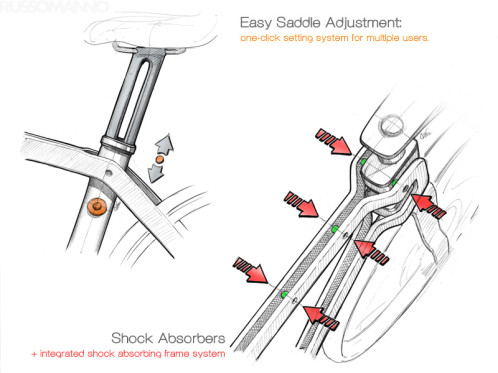 Chris Connor's wooden bikes (pictured below) are handbuilt in Denver, Colorado.  His frames are "made from steam bent, hand-sculpted, and Kevlar reinforced ash and walnut woods with protective marine spar varnish finishes."  Currently, Connor Cycles offers two models, both with fat tire 29er wheels and leather saddles. See the website for more details, and be sure to watch the short video on the homepage for a glimpse into Chris' construction process.