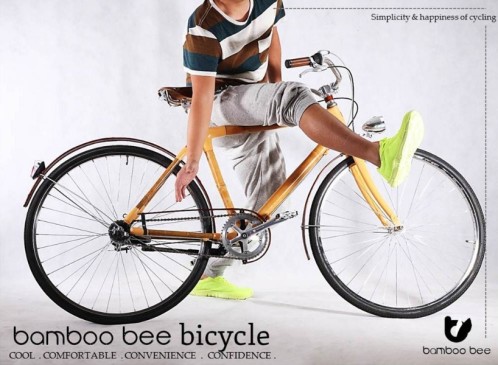 I have mentioned bamboo bikes on this blog quite a few times in the past, and I even had the chance to ride one for a few weeks last year.  At first glance, the Bamboobee bikes, by designer AhSun "Sunny" Chuah, looked a lot like all the others on the market.  Upon closer inspection though, there are some pretty interesting details and features that separate Sunny's bikes from others  that I have seen. Watch the video at the top of his Kickstarter page to see what I mean.
Sunny built his first bamboo bicycle three years ago, and used it to complete a 3,792 mile solo cycling expedition around Central Asia and Asia. "Riding on tough terrains during the expedition taught him a lot about riding comfort, bamboo as a raw material and bicycle design principles. I was also pleasantly surprised at how a natural material like bamboo can break language barriers to create conversations and bring people together" Since that trip, he has refined his prototype designs through trial and error, resulting in the bikes you see here.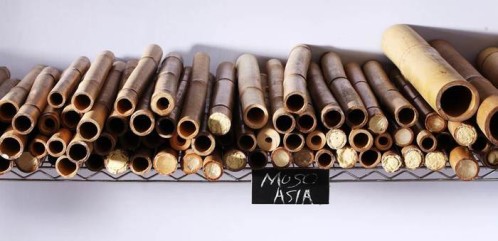 Sunny refers to his design as the "world's first tech-based handcrafted bicycle that can connect cyclist, people and nature."  The integrated SMS alert system, which can send a message to the owner's phone when a vibration triggers the alarm system, is part of that tech story.  So is the NuVinci continuously variable transmission with an electric assist option… a feature not found on the average bamboo bike. The most interesting tech feature though is the bamboo material itself.  The bamboo tubes are infused with honey (get it…Bamboobee) in a "trademarked environmental friendly process" that, according to Sunny, prevents the natural material from cracking (a common problem with bamboo over time). As a result, the bikes have been certified by International Bicycle EN standards and come with a 10 year warranty.
See three of the initial models below, and visit the Kickstarter page to see several more.