I briefly mentioned the engineering website and community GrabCAD last year, when they ran a crank weight reduction challenge for Tern and a bar tape fixing challenge for Flying Machine Bicycle Design Studio.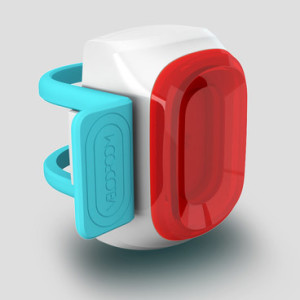 They have a new design/engineering challenge underway, in partnership with Velodroom, to "create an accessory that solves a problem cyclists face in their daily trek." The brief is fairly open ended, with one of the major requirements being that the design fit within the design language of the current Velodroom lighting system. See the challenge page for complete rules and requirements. The deadline is May 29th and there are awards for the top ten entries, get to work if you have an idea in mind.
Update 5/2: I will be participating as one of the jury members for this competition, and I am looking forward to reviewing all of the designs at the end of the month.
Switching gears from Velodroom to velomobiles (and HPVs…and other speed machines). I was pretty excited last week when Richard Masoner, of Cyclelicious, clued me in to the fact that the complete archives of Human Power , the technical journal of the International Human Powered Vehicle Association, are now available on the IHPVA website. The issues, dating back to 1977, contain a wealth of information from guys like Chester Kyle, David Gordon Wilson, and Mike Burrows (just to name a few).  I could, and probably will, spend hours poring over these old issues.  These archives are definitely a great resource, and I highly recommend that you all bookmark.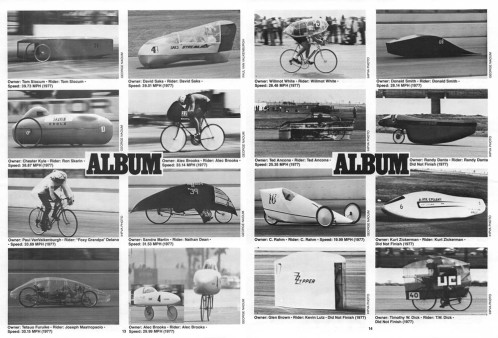 Ray at Core77 has been posting a lot of good bike related content lately, and his latest post is no exception. He picked up on the IHPVA archives link that I tweeted last week, and ties it in to the Tom Donhou speed bike, complete with a 104 tooth chainring, that was recently spotted at Bespoked Bristol.  Lots of other good HPV and speed record content is included in that Core post too, so be sure to check it out.
All this talk about HPVs and other odd bikes reminds me that SPEZI 2013 took place this week. I haven't seen much online coverage of this year's show yet though, so I would love to hear from any of you who were there.