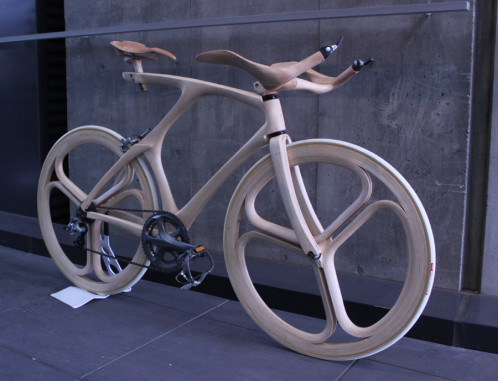 Yojiro Oshima is a student in the Craft & Industrial Design Department at Musashino Art University in Tokyo. For his final project before graduation, he designed and made a wooden bike (complete with wooden wheels, handlebars, and saddle). His goal with the design was to incorporate the benefits of a beam frame and a standard frame, so the short cantilevered seat beam was designed to "reduce large impacts" while the "seat stay and the chain stay remain as usual to assure the stiffness."
In addition to the beautifully crafted frame, Yojiro sculpted a wooden handlebar with integrated armrests and created "baton wheels" with an arc between the spokes and rim to soften the ride.
It is a beautiful prototype, and I would love to see a video of it completely built and actually ridden.  For now though, see additional still pictures of the bike below.