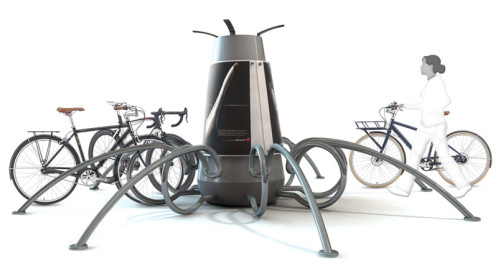 According to industrial designer Douglas Schaller, "the bicycle theft industry is at least $393 million annually in the United States and the crime costs Americans between $800 and $1 billion."  That problem was the reason for the Bicycle Lock Dock, a 2009 team student design project led by Schaller along with Cassie Tweed, Seung Kim, Mike Koplaw, Andrew Waterbury, and  Jun Imaizumi.  The design was created for San Jose State University, and the idea was to "emphasize security through positioning in open areas, creating available and convenient locking locations."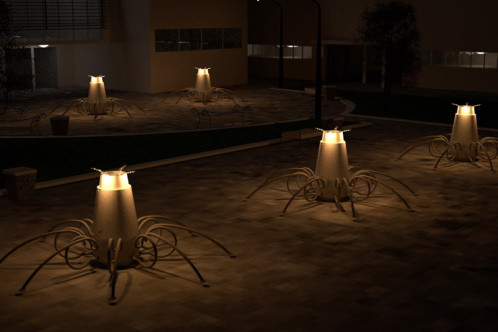 The curved racks allow for multiple locking points, and the central towers feature LED lights for visibility and security.  The towers can also be used as informational kiosks to inform students of campus happenings, and/or can be used as a source of revenue, with two approximately 280 square inch ads.
There is more information about the Bicycle Lock Dock on Schaller's website, and team member Cassie Tweed has a few interesting presentation boards from the project as well.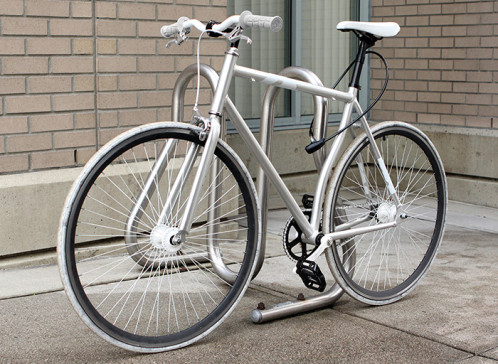 I have noticed a few other security focused projects on the web lately.  Interlock (seen in a rendering above) is a project on Kickstarter for a cable lock that hides inside of a bike's frame through the seat post.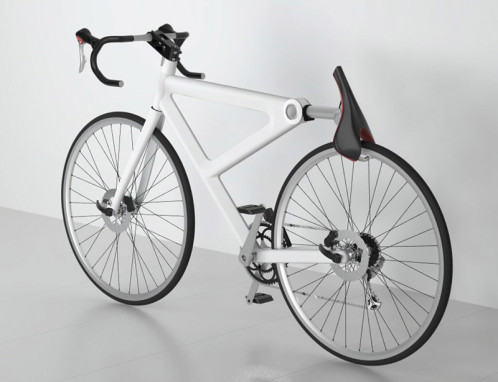 Saddle Lock, by Lee Sang Hwa, Kim Jin Ho and Yeo Min Gu, is another integrated lock concept which uses a locking seat and pivoting seatpost to secure the rear wheel (you definitely don't want that hinge to drop back while you are riding…ouch).
I know that I have seen a few other interesting locking concepts recently, but didn't bookmark them all. If you know of any, feel free to leave a link in the comments.
Edited 1/31: This Poa street furniture series by Studio BrichetZiegler is one of the links that I forgot initially, but I think these designs are quite nice. I like the connection between public furniture and bike racks.