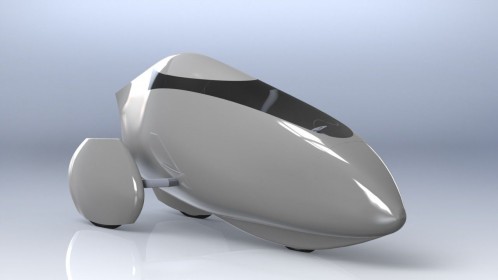 Recently, Arnold Ligtvoet from RaptoBike sent me a link to an interesting project that he is involved with.  The goal is to develop a velomobile that is both practical and fast, and the team that is working on the VeloTilt certainly has the credentials to make it happen.  The development team consists of Will Schermer- the idea and funding guy, David Weilemaker- design and aerodynamics, George-emile Tokaya- design and ergonomics, Bram Smit- FFWD, design and construction, Jan Reus- composites, and Arnold Ligtvoet- commercial development. Wielemaker and Tokaya are both members of the Delft Technical University HPT team and were designers of the Velox2, which reached a speed of 129.6 Km/h (80.1 mph) at Battle Mountain, NV, so a lot of what they learned from that experience is going into this project.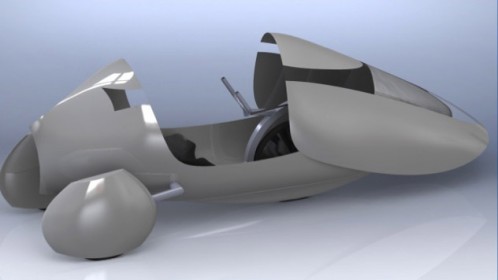 In a presentation during the Velomobile Seminar in Dronten, NL last month, the team pointed out a few issues with current velomobiles:
Not always easy to enter and exit
Fall over when cornering too fast
Limited cargo space
Not easy to maintain
Require a large storage area
They also outlined the design goals for the VeloTilt project:
Tilting for safe cornering and fun to ride
Easy entrance
Usable for people from 1.6 to 2 meter ( roughly 5' 4" to 6' 7")
70 liters of luggage space
Excellent braking
Speed 55km/h with 150 watts of power
All technical parts easily accessible
Storage in .8 x 1 meter space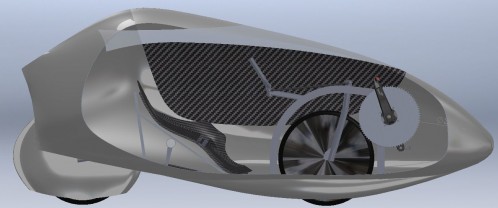 You can see CAD renderings of the design at its current stage in this blog post, where you will also find all of the presentation slides from Dronton.  The front wheel drive tilting trike features 20" side mounting wheels, with dual disc brakes in the back and a drum brake in the front.  Risse shocks are used on the rear wheels, and the front is driven by a 3-speed hub and 9-speed derailleur. The overall dimensions are 248 cm long by 76 cm wide by 105 cm tall (roughly 8' 1" x 2' 6" x 3' "5), and the vehicle can be stored upright on its end as seen here.
It is a pretty interesting project, so I look forward to learning more about it as it develops. I will definitely pass along any further info about the project as it comes to me, so stay tuned.