At any given time on Kickstarter , there are quite a few bike related projects seeking funding. Some of them, like Revlights most recently, do meet their funding goals and move forward into production. Most seem to struggle to get the funding that they seek though, and never see the light of day.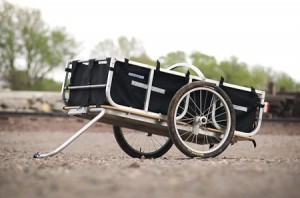 Last week, Commute by Bike posted a good round-up of bike projects that are currently running on Kickstarter. One of the projects that they mentioned, the Wandertec Tuba bike trailer, just so happens to be one that Commute by Bike blogger (and "undisputed bike trailer expert") Josh Lipton has underway. In his video on the Kickstarter page, Josh points out that most bike trailers on the market are too small (intended for kids, pets, small loads), or way too big (for hauling serious loads like furniture). "Where is the trailer for the minivan lifestyle — but without the minivan?" he asks. The aim of the Tuba is to fill that gap between recreational trailers and heavy duty trailers.  With a cargo area sized to fit all of the items that one might fit in an average car trunk, the Tuba can handle a family sized load of groceries (with room to spare for additional errands). Of course, the size to accommodate the needs of a family is no coincidence. Josh explained that he designed the Tuba after the birth of his first child, when he found himself having to use the car more and more often. As a father of three, I can relate to that…and I definitely remember how much easier it was to get around without a car before having kids.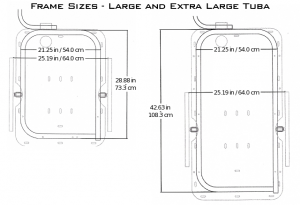 You can find out more about the Wandertec Tuba on the Kickstarter page (which ends in a couple of days), and on this post at Commute by Bike.  There is also a Wandertech page on Josh's Bike Shop Hub site, where the trailer will eventually be sold. While you are checking out his sites, I also encourage you to visit his Utility Cycling blog, which is all about… you guessed it… utility cycling.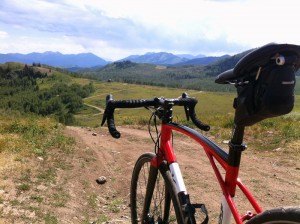 Another interesting project on Kickstarter now is the Volagi Viaje steel adventure bike. You may remember the disc brake equipped Volagi Liscio, which I mentioned briefly in a past post. The carbon fiber Liscio road bike was the first to feature Volagi's Long Bow Flex Stays that attach to the top tube instead of the seat tube in order to allow for a small bit of vertical flex. With the Viaje, Volagi created the same stay/seat tube/top tube junction in steel. Comfort is pretty important for a gravel grinder bike, so it will be interesting to see how the Viaje rides in practice. In addition to the Kickstarter page, visit Bike Rumor and Cyclelicious to learn more about the Viaje.
In just over a week, I am doing a ride that this bike would be perfect for, so I really wish I had a review bike on hand at the moment. Oh well, my ultra-rigid aluminum cyclocross bike will have to do, but I'm sure I'll be thinking about the  benefits of a comfort oriented frame on some of those rough, rutted out gravel roads in Pisgah.  I absolutely love those types of rides though, so I am happy to see more focus on gravel/dirt road bikes as a category.