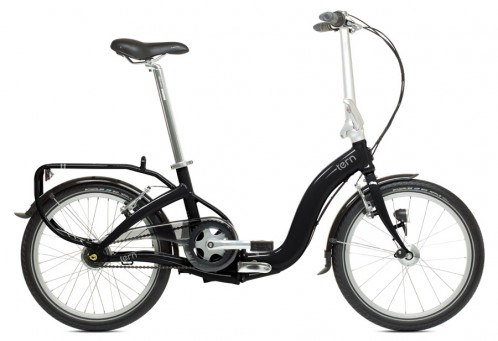 Show season for the bike industry is right around the corner, with Eurobike 2012 kicking off at the end of this month.  One new design that will debut at the show is the ultra low-step frame "Swoop" from Tern. According to the company, "The Swoop top tube is only 28 cm (11″) off the ground, making it one of the lowest step bikes on the market."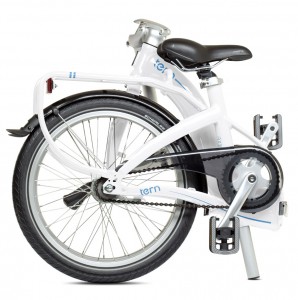 Many people see step though frame designs and immediately think of them as women's bikes. While it is true that these types of frames work well for women wearing skirts or dresses, there are other types of riders who can also benefit; multimodal commuters who need to get on and off the bike often (especially in work clothes), and older people with less flexibility for example. Tern also mentions that the lower center of gravity enhances stability, which is a plus for inexperienced cyclists who feel more comfortable being able to put both feet on the ground when necessary.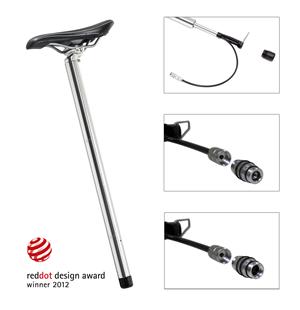 A related product that you will be able to see at Eurobike is the BioLogic PostPump 2.0, which will be standard equipment on many of the new Tern bikes. Unlike the combination seatposts/minipumps that were popular in the late 80s and early 90s (back when all mountain bikes had quick release seatpost binders), this product takes advantage of the very long seatpost found on folding bikes and functions as a high capacity floor pump. It has a flip out stand so that the user can secure it with a foot while pumping and makes use of the saddle as a handle. DL Byron from Bike Hugger, who travels with folding bikes fairly often, described the following usage context in a comment on a Google + post by Richard Masoner:
"Folding bike while traveling, arrive in hotel, assemble bike, you deflated the tires for extra room in the travel case, use seat post instead of another pump, can't fly with Co2.
This pump is about convenience and utility for a folding bike. It's not intended to replace another bike pump on a regular bike. It works because the seat mast is so big and can push volume into the tires."
That makes sense to me, and I do think this is a good idea for folding bikes. No wonder the design won a 2012 red dot product design award. Read more about the PostPump 2.0 at Cyclelicious.