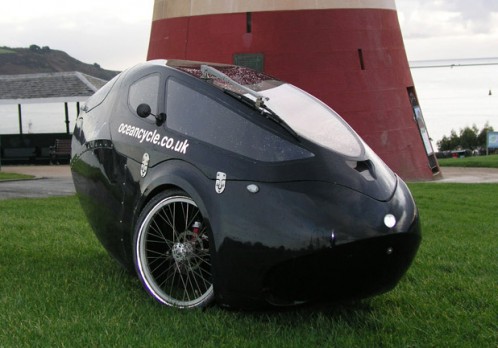 It seems like I have been hearing more and more from companies making velomobiles lately, and that is a trend that I hope to see continue. I am definitely not an expert on the subject of HPVs or velomobiles, but the Challenger from UK based Ocean Cycles is a pedal powered machine that immediately caught my attention.  The sleek design is based around Inspired Cycle Engineering's Sprint Trike, and is available with an electrical assist option. You can find out more about the Challenger and see additional images on this page of the Angletech Cycles website (an Ocean Cycle dealer).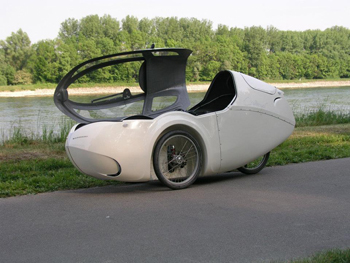 Ocean Cycles wants to "promote the use of the velomobile as a viable option for the daily commute", but there are also those who build full fairing HPVs that are designed strictly for speed. In just a few weeks, HPV builders and fans will gather in Battle Mountain, Nevada for the 13th annual World Human Powered Speed Challenge.  Earlier this year, there was a lot of attention on the web given to Graeme Obree's plan to make an attempt at the human-powered land speed record at Battle Mountain (on a machine that he is designing and building himself of course).  Obree's stated goal is not just to break Sam Whittingham's current record of around 83 mph though. Obree wants to be the first to reach the 100 mph mark on the prone position HPV that he has been building at home. Aside from this blog post though, I haven't heard much about Obree's plans in the last few months. Hopefully he is on track with his training and construction and will not be stalled by the unprovoked attack that he suffered last night in a Scottish pub.
I have a hard time believing that Obree, or anyone else, will be able to actually hit the 100 mph mark, but I would love to be at Battle Mountain next month to see the attempt.  I am certainly pulling for him, and I hope that his attempt will focus more attention on the World Human Powered Speed Challenge, and the HPV community in general.
Update 9/6/12: Here is a link to the latest photo I have seen of Graeme Obree's world speed record attempt HPV. The World Human Powered Speed Challenge at Battle Mountain is just a few days way. Has anyone seen the shell yet?
Another update 9/7/12: You can see the shell here, but unfortunately the bike is not quite ready for an attempt at the World Human Powered Speed Challenge at Battle Mountain next week. That's a shame, because I was really hoping that Obree's attempt would bring some publicity to that event. Oh well, I'll still be checking in to see how fast the other teams are going in Nevada.