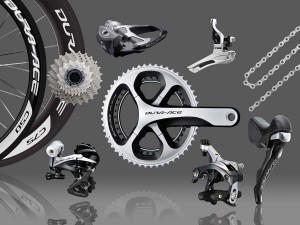 So I guess I should mention Shimano's "official" release of the Dura Ace 9000 11-speed groups (electronic and mechanical) , though it seems a bit anticlimactic considering the fact that we have all seen the "unofficially" leaked photos that appeared on the web months ago. As suspected from those early pics, the crankset has a new bolt circle diameter which allows an inner chainring as small as 34 and an outer up to 55. As I mentioned in my previous post, I like the idea of a standard BCD for compact and standard gearing. As my knees age, I want lower gears for climbing but I also still want to go fast on the flats, so I am increasingly becoming a fan of mid-compact (52/36) cranksets.  I am glad to see that Shimano will offer that configuration as a standard option, along with many (maybe too many) others- 50/34, 52/38, 53/39, 54/42, and 55/42.
For more information about the new Dura-Ace group check out CyclingNews, Bike Radar, Red Kite Prayer, VeloNews, Bike Rumor, Road.cc, or pretty much any other site that covers bikes or cycling.
DA 9000 was old news by the time it was officially announced, so the 11 speed system that really got my attention this week was the "official sneak preview" of a prototype XX1 mountain bike group from SRAM. This is not just an 11 speed cog added to the 2×10 XX group as you might first assume. The XX1 prototype uses a single chainring system with a wide range, 10 to 42 tooth, cassette to get a 420 percent range without any front shifting. Personally, I am running a cobbled together 2×9 XTR setup on my mountain bike, but I like the idea of eliminating front shifting altogether for off road riding. I'll be very interested to see how SRAM continues to develop this…and if it is accepted by the market once released.