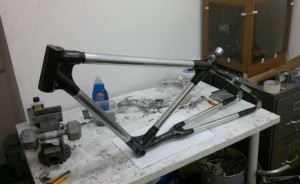 You may remember Andrew Leinonen's StayLocked "self-destructing" bike frame from a post last year.  His latest project is also pretty interesting- "a custom bicycle frame that uses 3D-printed lug sockets to define the bicycle's geometry."  The printed ABS lugs are then bonded to steel aluminum frame tubes and reinforced with carbon fiber, using 3D printed molds in order to improve the tolerances and finish.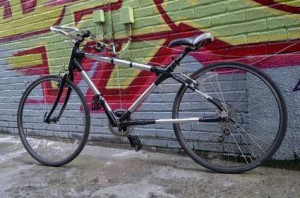 Andrew explains that his process " allows totally custom geometry (if you can draw it in CAD you can make it) and makes the construction process entirely self jigging." He documented the entire project in detail at Instructables, so be sure to click through all of his steps to see the pictures and descriptions of each part of the process (or you can view all the steps on one page here). Andrew points out in his disclaimer that he is not a composites engineer or a framebuilder, but an industrial designer working in the aerospace industry, where he has prototyped carbon fiber aircraft parts and has read a lot about composite manufacturing theory. It is definitely an interesting framebuilding process, and one that would be pretty easy to duplicate (assuming you have access to a rapid prototyping machine or a desktop 3d printer).
See a few shots from the construction process below, and many, many more photos in Andrew's Instructable.