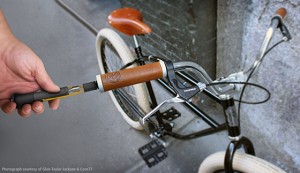 InCOG is an "out of sight" multi-tool that was created by Industrial designer Joshua Brassé, Founder and CEO of Ideacious. The tool fits neatly inside the bike's handlebar, and is flexible so that it works with standard drop bars as well as various other bends. The exposed end-cap is designed with a recessed star pattern, which mates with the included flat removal tool. The standard bits inside can be replaced at your local hardware store if they are lost or need to be customized.  Get more information and see additional images at Ideacious.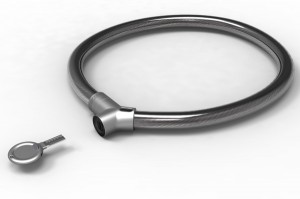 Yanko Design posts some crazy concepts from time to time, but this bike locating lock by designers Yakun Zhang, Jason Liu, & Danwei Ye seems like a pretty sensible idea. Much like the remote fob on a set of car keys, this lock features a radio transmitter in the key that communicates with a matched receiver in the lock. Press a button on the key and the lock lights up and makes a sound. I have never had any trouble finding my bike here in the US, but I did have a bit of a challenge finding a rental bike among the many bikes parked on the street in Amsterdam once. Something like this would have come in pretty handy in that situation.
Finally, I can't post without mentioning Road.cc's  video of Graeme Obree explaining the design and construction of a prone position bike that he'll be using for an attempt at the human-powered land speed record in September. The Flying Scotsman is definitely an interesting guy (and a "bit of a mad genius" as one of the commenters pointed out), so I definitely suggest you check out the link.