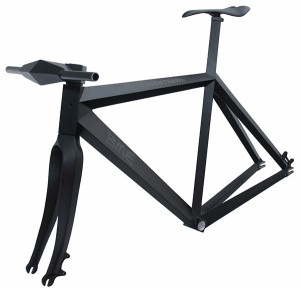 The name Brano Meres may be familiar to those of you who have been reading this blog for a while. He has a PhD in mechanical engineering and is a designer of laser devices for industrial and military applications, but in his spare time Brano likes to make bicycles. The X-9 Nighthawk is his latest "experimental frame" made with flat carbon fiber skins over an aramid honeycomb core. The handlebars and fork are made from molded carbon, but shaped to match the faceted frame. You can read more about this experimental design, and see many more pictures (these are photos, not renderings) on Brano's site. While you are there, check out some of his other frame designs…definitely  interesting stuff.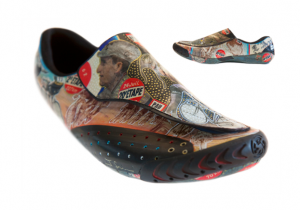 Artist James Straffon's LE TOUR – From Maillot Jaune to Lanterne Rouge exhibition will take place at the Snap Galleries in London over the summer. See more from the Rapha Grand Tour shoe collaboration here, and additional bike themed works by on Straffon on his website and blog.
Martin Strohmeier's off-road Quadricycle concept features a carbon and aluminum frame and four wheel disc brakes. You can see renderings and find out more about the design here and here.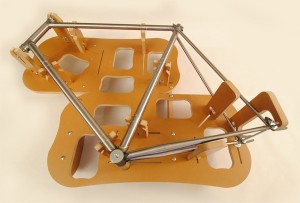 Finally, I want to mention the Jiggernaut, an inexpensive jig made from MDF and designed to "bring bicycle frame building to the masses". In addition to just the jig, they are also offering complete kits that include tube sets, accessories…everything you might need to build your first frame (except maybe a fire extinguisher for the MDF).  They have surpassed their funding goal on Kickstarter by a large margin, so obviously there quite a bit of interest out there in a DIY framebuilding starter kit like this. I am glad to see that, but I just hope all those aspiring builders are cautious when they first start riding their home-built frames.