I have mentioned the Taipei Cycle Show in a few posts this week, so I will keep the theme going today by sharing a few interesting links that I noticed in the past few days.
Road.cc posted about award winning products at the show, and a couple of wheelsets that they mentioned caught my attention. The carbon tubular Equinox wheels don't look all that out of the ordinary at first glance, until you see the molded nylon(?) spokes.  Two spokes are molded together at the base creating a single point of attachment to the carbon hub shell. I couldn't find much information about this wheelset beyond what is written in the road.cc post, but I would love to find out more if anyone has information about the spoke material.
The other interesting wheel that you can see at road.cc is the Line Wheel from MID, which uses a micro-fiber cord in place of traditional metal spokes. It is hard to believe that the wheel would remain stiff the way each cord is tied at the hub, and I wonder how much the cord material would stretch during use as well. Regardless of any doubts though, I am very curious about these wheels and would love to try a set.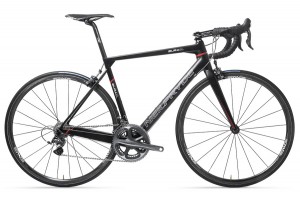 NeilPryde has come a long way since entering the bicycle business with two new frame models in 2010. Their newest bike, the Bura SL, was shown for the first time in Taiwan last week. It is a sub-750 gram frame (in a large size) and is set for a September release. Aesthetically, I like the tube shapes, gussets, and hidden seatpost clamp. See more pictures on NeilPryde's Flickr page, and read more about the bike at BikeRumor.
This post has been road focused so far, but I can't post about the Taipei show without mentioning electric bikes. Nick Foley shared a nice collection of photos of e-bikes at the show on his Google + page, and the 'flow' e-bike by Fairly Bike won a d&I (design & innovation) gold award at the show.
Finally, I will point those of you who are interested to mountain bike coverage from Taipei. The guys from Pinkbike were there, and posted quite a few pictures from the show floor. Be sure to check out their product round up post as well.