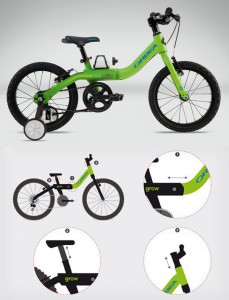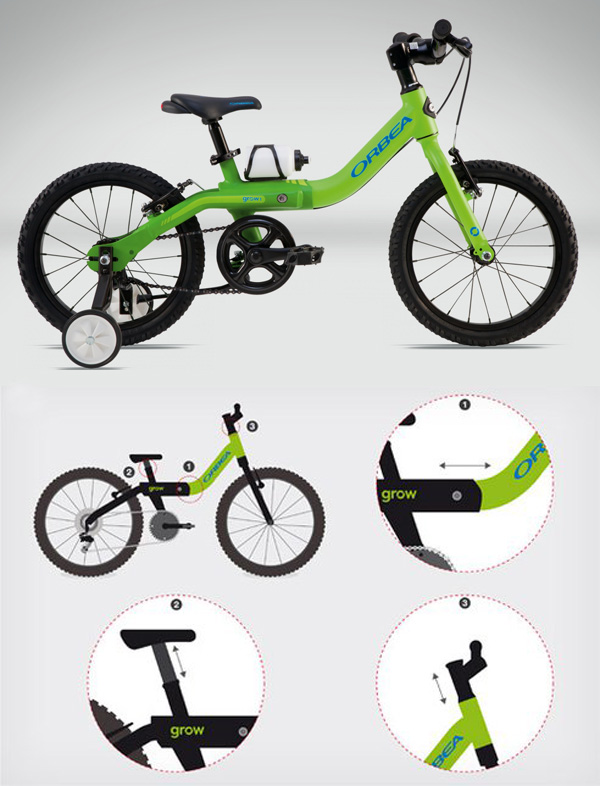 The idea of creating bikes that grow with kids that has been around, but designer Alex Fernandez Camps' approach for Orbea is interesting. Many kids bikes allow for substantial adjustment of seat and stem height, but Camps' design features an aluminum frame that can be expanded horizontally as the child grows. The GROW bikes come in 3 sizes for different age ranges. Read more, and check out a video on Treehugger.
GrabCAD, a mechanical engineering community with 90,000 members, has been organizing a few bike related design contests lately. The crank weight reduction contest for Tern has already ended, but there are still a few days left to get in on the contest to "improve the finishing details to hold the handle bar tape in place."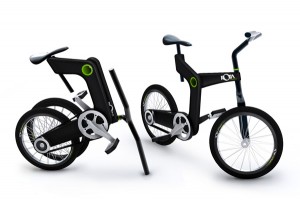 The ROTA Bike, by Leandro Albino Oliveira, is another rendered folding bike concept posted at Yanko Design. The last image in the post briefly explains the pivot mechanism, but there is not much detailed information in the post.
Jewelry designer Jeni Oye uses old bike tires to make cuff bracelets for men and women. They look nice, but most of the tires in the images don't look very used to me. When I remove a tire from one of my bikes…there is definitely no mistaking it for a new one.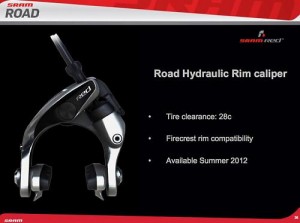 Finally, I'll mention this Road.cc post with "spy shots" of future SRAM Red hydraulic disk and rim brakes. Interesting! Look for more info about SRAM Red here at Bicycle Design later in the week.