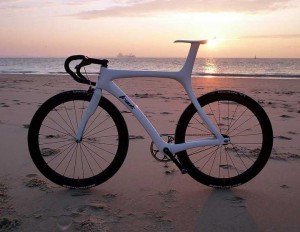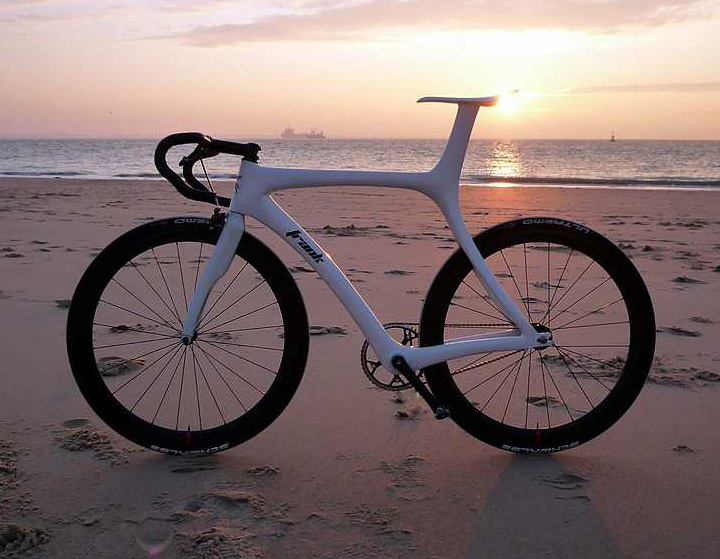 I am traveling for work this week, and my schedule has been pretty hectic. I don't have much time to post, but I do want to quickly pass along a few links.
The custom track bike you see here was sent to me by a reader (actually by a reader's girlfriend). It reminds me a bit of an old 90s Kestrel 500 SCi frame, without that unsightly appendage for the front derailleur.
I have posted a few times in the past about luminous paint for bicycles. Now you can check out this Instructable on how to paint a self luminescent bike at home.
The City of Bordeaux has invited well known industrial designer Philippe Starck to design "the bicycle of the future". I am not so sure that Starck will be able to live up to that task, but his concept designs are always interesting. I'll look forward to seeing what he comes up with in this case.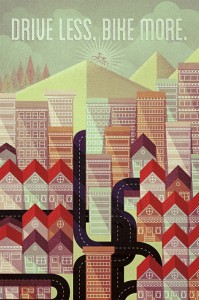 This "Drive Less, Bike More" poster caught my attention last week. I love both the message and the design.
Graphic designer Michael Mulvey also has an interesting poster series based on the Steve Jobs quote that "the computer is like a bicycle for our minds". He has already reached his fundraising goal on Kickstarter, but check out his page there to see the design and find out more.
Speaking of bike posters, I am a big fan of vintage bike art (as you could tell if you looked at the walls for my workshop). Riding Pretty recently shared a few old bicycle company advertising posters as well as a newspaper from the early 20's. It's a great collection, so check it out!
Keeping with the vintage theme, this old photograph of a man on a water trike with a sail is definitely worth a look.
Finally, I want to mention this competition to design the Breakaway from Cancer® 'Most Courageous Rider jersey' that will be used in the 2012 Amgen Tour of California. If your design is selected, you will win a trip to the AToC, and you will get to present your jersey in a podium ceremony. Sounds pretty cool, so download the templates and get to work on a design