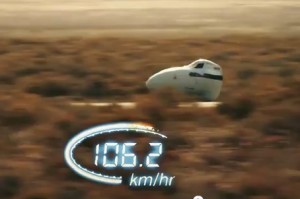 Victor Ragusila, from the University of Toronto Human Powered Vehicle Team, sent me this great video of their Vortex HPV in action during the World Human Powered Speed Championships at Battle Mountain, Nevada last month. The team didn't quite reach their goal of 75 mph, but they came pretty close and got a third place ranking overall. Read more about the Toronto team, and others who participated in the challenge at Battle Mountain, in this post at Biking in a Big City. Every year, I say that I want to make it out to Nevada to see this in person one day and check out the HPVs up close. Hopefully one of these years I can make that happen.
I posted about the B2O Bamboo bike, designed by Antoine Fritsch, a few years ago. This morning, I noticed on DL Bryons Google+ page (and also at a Bike Hugger post) that the design has recently resurfaced again. It looks they the design has been refined a bit from the last prototype.
How did the Dutch get their network of bicycle paths? Though not directly related to product design, this is a great 6 1/2 minute video that everyone who rides a bike should watch. If people in the Netherlands were successful about changing attitudes regarding active transportation, we should be able to do the same here in the U.S. (in theory at least).
Speaking of the Netherlands, I want to pass along a link to a short online questionnaire that I encourage you to take. Ruben Hekkens is a master student at the Delft University of Technology, who is working on the design of a new urban bicycle helmet. Very few Dutch urban wear a helmet, so he is turning to the web to collect some information for the research phase of his design.
Finally, I'll mention that the Alliance for Biking & Walking is hosting a photo contest that may interest some of you. The 2011 People Powered Movement Photo Contest aims to capture the beauty and energy of active transportation and to build an online library of high-quality images that can be used by bicycle and pedestrian advocacy organizations. There are several great prizes, with the top one being a vacation to Italy, so get your entries in before October 31st if you are interested.