In addition to playing in the surf, eating some great seafood, and riding bikes with my family, I had the chance to catch up on some reading while I was at the beach last week. The two books I took on the trip were It's All About the Bike by Robert Penn and Joyride: Pedaling Toward A Healthier Planet by Mia Birk. I definitely recommend both books, so let me share my impressions about each starting with the first one.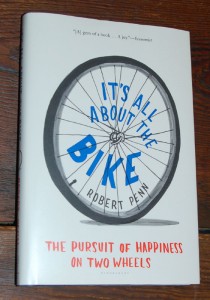 It's All About the Bike is the story of the author's quest to create his dream bike. As Mr. Penn states in the prologue, he could have gone online with a credit card and spent $5,000 on a "mass-produced carbon or titanium racing bike," but he wanted a bike that was uniquely his. After commissioning a custom frame from Brian Rourke Cycles in the UK, the author travels to factories in the U.S. and Europe to pick up the components, handlebars, fork, wheels, saddle, etc. At each stop, he meets the person or people responsible for making the part, and he reflects on the history of that particular detail of the bicycle. It is those historical accounts that really draw you in to the story.  I have read several books about the history of the bicycle (Bicycle by David Herlihy is one that I would recommend). Penn's book doesn't go into as much detail as those, but I loved the way he tied so many stories from the early days of the bicycle to the equipment choices he was making on his bike. As someone who tends to sometimes feel nostalgic about my own bikes, I appreciated the thought and care that he put into choosing every part of his dream machine. He certainly didn't end up with the same bike I might have chosen, but that is exactly the point. His bike is a reflection of his own personal experiences on and off the bike…and the story of how it all came together is a fascinating one.
Many of you are probably familiar with Mia Birk. As the principle of Alta Planning and former Bicycle Program Manager for the City of Portland, OR, she is largely responsible for making Portland the bicycle friendly city that it is today. I enjoyed hearing Mia speak when she visited South Carolina last month, and I found her book, Joyride, to be inspiring as well. For those of you who don't know, I have been involved with local bicycle advocacy issues here in Greenville, SC for many years. Like anyone who pushes for positive change in their local community, I sometimes get discouraged with obstacles and set-backs.  I found it very encouraging to read that Portland faced some of those same obstacles in the 90's, and though it took time and much effort…attitudes started to change. As I read Mia's story about the process of change in Portland, I realized how much we have really done here in Greenville over the last 5+ years. We still have a long way to go, but it is encouraging to realize that the issues we have faced here are not unique, and that others have found ways to solve them, gain support, and move forward. I think the one big take away from Mia's story for me personally is to keep pushing for a better place to live and ride, but also to celebrate the little victories along the way. Every small step brings us closer to the overall goal…and celebrating those minor goals can help us build support and momentum to reach the major ones.