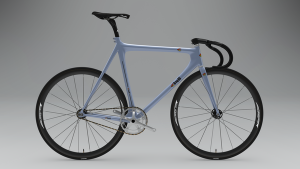 If you have been cycling for a long time, you no doubt remember the beautifully sculpted Cinelli Laser from the 80s (or better yet, this version). Those bikes were, and still are, highly coveted (by me at least). There has been some talk about a limited edition reissue of the Laser for about a year now, but I haven't heard anything about it lately.
French designer Yann Lewandowski apparently couldn't wait for an official reissue from Cinelli, because he "started trying to imagine the 2012 Cinelli Laser, using 3D software" in his spare time about 6 months ago. He felt like the 2012 Olympics in London, which will feature a beautifully designed new velodrome, would be the time and place for Cinelli to unveil an updated version of the classic bike. The carbon fiber frame that Yann designed pays tribute to the form and geometry of the original Laser, but is intended to be a modern track racing bike rather than a replica. He also designed a few new "Shark" components for his 2012 Laser. See more pictures, and read more about the project on Yann's Behance Network portfolio page.
Update: Check out more pictures of classic Cinelli Lasers at the Cinelli Only blog.