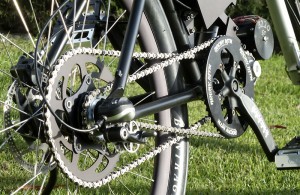 Roy Prince designs and builds electric bikes (and other electric vehicles) in Oxnard, California. He chronicles the builds on his website, RPEV.org, where you can find pictures and blog entries for the various bikes. His latest project is the eCortina v2 e-bike, which you can read more about here.
Roy points out that his "hybrid electric bicycle system is designed so that one can pedal only (human power), motor only (electric power), or in hybrid mode both motor and pedal at the same time. Under hybrid running the distance one can ride under one charge is extended."
As you can see from the picture, the dual drive systems use BMX freewheels and chains "to allow pedaling without driving the motor and motoring without forcing the pedals to rotate." A 3 speed Shimano Nexus rear hub allows the motor, from the Radio Controlled (RC) hobby business, to run in its efficiency range. Roy explains the concept a bit further on his website. Check out his blog too for more information about the project.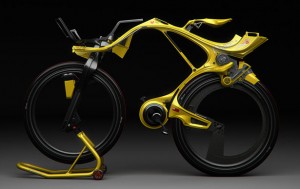 A completely different electric bike concept, by Edward Kim and Benny Cemoli, can be seen at Tuvie. The INgSoc bicycle is a rendered design concept that looks more like an insect or an alien than an e-bike. It definitely has an aggressive look for a commuter bike…and of course the hubless wheels that you would expect to see on such a concept.
Another concept bike that has been hitting the design blogs lately is this Audi themed electric bike by Arash Karimi. Like the INgSoc bike though, this one is just a rendering without too many of the details worked out. A prototype would be the next step to figure out how this design would actually ride.