Admittedly, I don't know much about the sport of triathlon, but I was very interested to see the bike setup of pro triathlete (and engineer) TJ Tollakson. A reader, Phil, sent me a link to a post about Tollakson's recent win at Ironman Lake Placid using a 1996 Zipp beam frame bike for the cycling leg. Apparently, Tollakson has been winning quite a bit on his "vintage" bike. His frame may be over 15 years old, but the bike is built with newer technology like the Zipp Zedtech 808 Firecrest carbon front wheel and the Zipp Zedtech rear disk (both clinchers), a SRAM Red grouppo, and a power meter. The bike also has a very unique aerobar setup. It is based on a Profile Cobra bar with Cobra T2 extensions, but Tollakson added athletic cups and shin guards to serve as elbow and forearm supports. I love to see that kind of DIY engineering on a pro level racing bike. The homebuilt custom aerobar set-up immediately reminded me of Graeme Obree's early 90s "Old Faithful" hour record track bike, which famously employed bearings from a washing machine in the narrow bottom bracket.
Tollakson ingenuity goes way beyond modifying his bike with soccer gear from the local sporting goods store. He also has a company called Ruster Sports that produces a couple of products that he developed to meet his own needs. One of those products is the TricaeroTop Carbon Hydration System, which carries food and drink in an aerodynamic container that acts as a fairing over the aerobars. You can read more about Tollakson's 1996 Zipp 2001 (and see more pictures) at Boulder Triathlon, and find out more about his products at Slowtwitch. Also, check out the Slowtwitch forum for a discussion about his bike.
I find it pretty inspiring that a pro athlete like Tollakson is willing to experiment with his riding position and use his engineering skills to make his bike as fast as possible…instead of just relying on the equipment that he is given. I also think it is quite encouraging that USA Triathlon apparently allows such innovation (unlike my pals at the UCI). Tollakson's willingness to question the latest offerings from the bicycle industry to and use whatever materials are readily available to him to test his new ideas is what brought Graeme Obree to my mind. As soon as I started thinking about Obree and his hour record bike, I opened the folder of pre Lugano Charter bikes that I still keep on my hard drive (just a few of which you can see in the image below). The Mike Burrows designed Lotus bike was among my favorites at the time, but many other companies were experimenting with frames that were unlike anything that had had seen before. Once the UCI stepped in and outlawed those monocoque frame designs though, non-traditional frame design stopped (at least with upright racing bikes).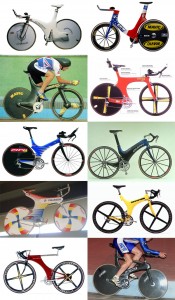 Don't get me wrong. I like modern time trial bikes and I think it is interesting to see what designers can do within the constraints of the UCI's equipment regulations. There is only so much that one can do re-shaping carbon tubes on a traditional diamond frame though. With the material advances of the past 15 years, what would time trial bikes look like today, and how would the rider position differ, if the standard diamond frame rule had never been imposed back in 1996? For that matter, what if recumbents hadn't been banned from international racing in 1934 (to open up a whole new can of worms)?
Perhaps the results of an athlete like TJ Tollakson will get the big players in industry to think about developing more triathlon specific bikes that don't comply with the UCI's restrictions. After all, as long as there are triathletes choosing to ride old Softrides and Zipps over new Shivs, P4s, and Time Machines, there seems to be a market. I'd just love to see the designers and engineers at the major bike companies today working to create the fastest TT bikes they can possibly make…with no regard for frame restrictions or silly stickers.