The new Specialized Source is a bike that caught my attention as I was looking at the 2012 Global Product Launch coverage at Bike Hugger. The sporty urban bike comes as either a derailleur version or with a belt drive. I like the fact that it includes fenders, a bell, and a dyno-powered light…feature that you need in a serious city/commuter bike. As much as I love to read news about bikes like the Venge or the new Tarmac SL4 at the Specialized event, this type of urban bike is what really gets me excited from a design standpoint. I'll echo the closing sentiment in the Bike Hugger post, "This is the sort of mixed-modal ride we're looking to see come out of companies over the next few years."
Update: BikeHugger has pictures of the Alfine equipped belt drive Source 11 in their Flickr stream. Check out the other shots from the event too.
Chrome has a "this is my city" photo contest going on now to coincide with the release of their new Niko camera bag. The winner will receive one of the bags…and a Nikon DSLR to go in it. Check out their Facebook page for details, and take a look at some of the photos that have been submitted so far (and in the second album here). I am submitting an image this afternoon too, so look for my shot of Greenville soon… and hit me up with a few "likes" (Update: my photo is here).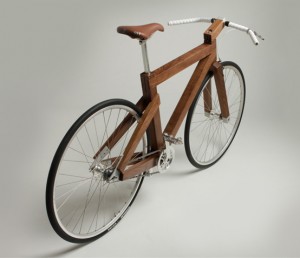 The folks at Lagomorph Design normally create custom furniture and cabinetry, but they recently decided to build a bike. Not surprisingly, it's a wooden one.
The GOKISO aerospace hub was designed to "keep bearings from getting compressed when the axle shaft deforms under pressure." It features 4 sets of deep groove bearings per hub, instead of the 2 sets of shallow bearings found in a normal hub. Read more about the design at Gizmag.
Via BikeRumor, "Kirk Pacenti Offers Open Source Freehub Design, Suggests Industry Moves Forward."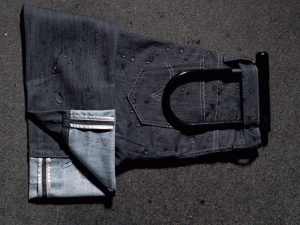 Levi's, who you may remember was the title sponsor of this year's Oregon Manifest "Constructor's Design Challenge", is introducing the "Commuter by Levi's" bike specific clothing line this week.  According to the company, "the 511™ and Trucker Commuter products integrate an array of features that address cyclists performance, convenience, safety, mobility and protection needs while maintaining the durability and classic styling that people expect from the Levi's®brand." Just a few of the special features are performance stretch fabric, 3M reflectivity, NanoSphere technology (for water and dirt resistance), and rider specific tailoring and seam reinforcement. I am all for products like this that aim to push transportational cycling further into the mainstream, so kudos to Levi's for introducing this line of clothing for urban cyclists.
Finally, I want to mention Jim Gallant's Homebuilt HPV page. He has quite a range of bikes featured…all pretty interesting. I particularly like the tandem he built to ride with his kids. His motorized cargo bike is pretty cool too.