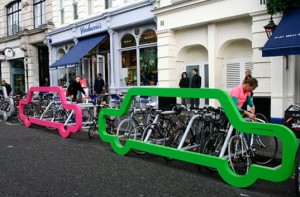 Cyclehoop Ltd is a UK based firm of designers and architects who specialize in producing innovative indoor and outdoor cycle parking solutions. They are best known for their retrofit circular racks, which convert existing sign and lamp posts into usable bike parking.
The brightly colored car-shaped racks that they created for the London Festival of Architecture each take up as much space as one car, but can park ten bikes.  The car silhouette protects the bikes from traffic, and the whole assembly can be can be easily assembled and disabled for temporary use (or it can be bolted down for permanent use). There is even an option for an integrated bike pump in the design…a feature I would like to see in more bike parking solutions. You can read more about the car bike rack at the USA Character Approved Blog and at Cyclehoop's 1 car space = 10 bicycles page.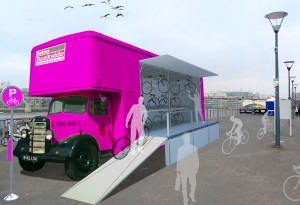 The car shaped rack is not Cyclehoop's only automotive themed parking idea. Back in the spring, they proposed an interesting solution to assist with the bicycle parking shortage in the Bankside district of London. Their entry in the Better Bankside Bikeshed competition involved recycling old removal vans and renovating them into three-tier bike sheds. Each vehicle would serve as a manned valet style-parking shed, and would hold 60 bikes. In addition to daily parking, maintenance service could be made available at the site on a weekly basis.
Cyclehoop's idea was interesting, but in the end, Studio Meda won the Bankside Bikeshed competition with a covered shed design that will be prototyped later this year. More on that design here and here.