OK… I didn't come up with that first line. It is part of the claim process for Bloglovin, a Swedish feed reader site that I am trying out as an alternative to Google Reader. I have been using it a bit, and I really like the design and functionality of the site. Also, it has a bit of an art/ design/ fashion flavor to it, so I have found a few new interesting blogs while using it. If you want to try it out, be sure to follow Bicycle Design through the link above. If not, allow me to pass along a few other links that might interest you.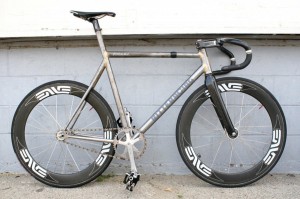 The Ritte Moth Attack Track bike caught my attention recently at Culture Cycles. I just love the raw finish with the exposed brass fillet brazing. Yeah. I know that look has been done before, but I really like the details in this case…especially the intricate headtube and seatstay logo badges.
I mentioned the Neil Pryde Bikes Diablo frame design competition finalists not long ago. I originally voted for entry #5, but my second favorite choice, #2 was the final winner. Congrats to Ben Burns, who will receive a 1,000 dollar prize and a Diablo frameset painted with his graphics.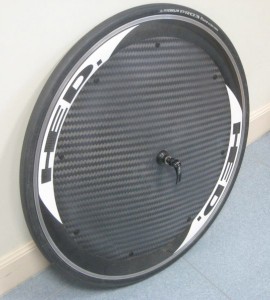 Sergi alerted me to this Laminar Cover from IDEC, which promises to turn a deep rim section wheel, such as the HED wheel pictured, into a disc wheel. At first glance, it reminded me of the old UNI Disc wheel covers from the late 80s/ early 90s.  That vinyl cover, which attched to the spokes with plastic clips, really was a poor man's disc. This solution looks like it might actually offer a benefit (at a higher cost of course) . Sergi is planning to try one, so I will be anxious to hear his thoughts. For now, read more about it on his Bike Science blog (in Spanish).
Speaking of science, I will close by mentioning Bike to the drawing board, an article in New Scientist magazine that delves into the physics of bicycle design. Pretty interesting stuff!